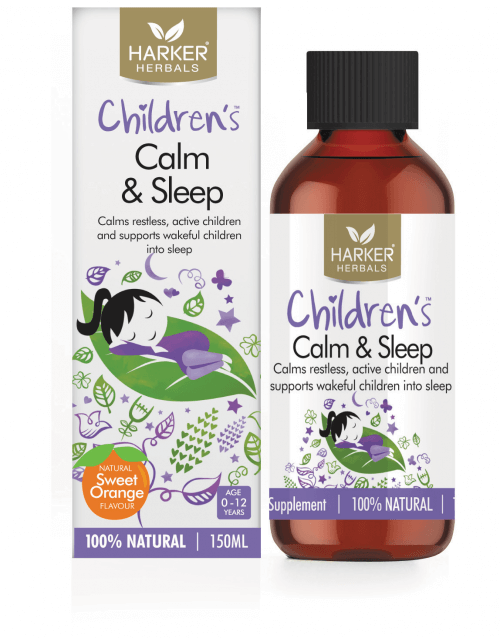 Children's Calm & Sleep 150ml
Harker Herbals Childrens Calm & Sleep Liquid 150ml - Sweet Orange
A calming, soothing herbal syrup to:
Help settle restless, active children
Support wakeful children to settle into sleep
Encourage relaxed, restful sleep
Active Ingredients: Each 5ml dose contains: Lemon Balm Melissa officinalis extract equivalent to dried herb 554mg
Chamomile Matricaria recutita extract equivalent to dried flowers 2496mg
Orange oil – cold pressed Citrus sinensis 2mg Base syrup
Organic Rice Malt
Vegetable Glycerine
Glucose

Dosage: Infants 0-1 years: 0.5ml (10 drops) Children 1-2 years: 1-2ml Children 2-5 years: 2-3ml (Half a metric teaspoon) Children over 5 years: 5ml. Children under 5 years may have a dose up to one hour before bed, including daytime sleeps. Children over 5 years may have a dose three hours and then one hour before bed. May also be given during the night to both groups if awake.

Extended Information: This product contains plant oil. It is free from allergens such as animal oil, animal matter, bee material, caffeine, cereals, crustacea, eggs, gluten, herbs not listed as active ingredients, milk, nuts, plant matter, polydextrose, quinine, seeds, soy, spices, sulphites and yeast. It has not undergone hydrolysis. It does not contain antioxidants. It is BSE-TSE free. No genetically modified organisms are used in the production of ingredients or compounds.