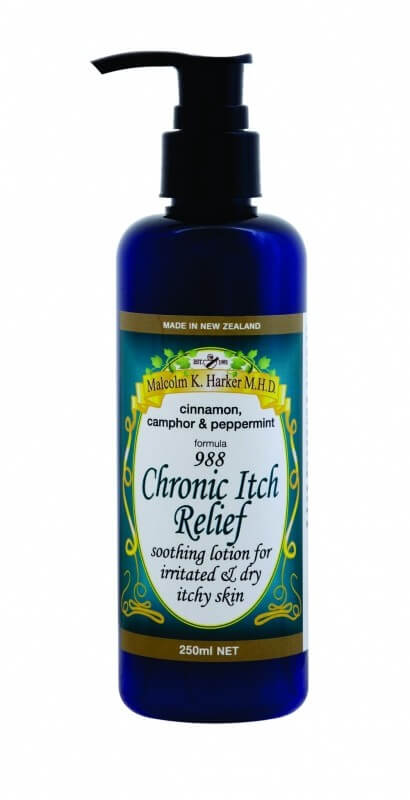 Chronic Itch Relief 250ml
Harker Herbals Chronic Itch Relief 250ml
Chronic Itch Relief is a more potent version of 528 Skin Peace, and was formulated to help relieve dry, itchy skin. The skin-cooling attributes of this lotion, provides fast relief from intense itching and skin discomfort. Please note, this product may sting on application however this sting soon subsides due to its anodyne properties.
Apply to very itchy, dry or scaly skin to help relieve topical symptoms.
Will help heal minor scratches, though there will be stinging involved because of the raw, exposed nerves. This 'smarting' is temporary.
Active Ingredients: Oils & Ethers
Camphor Laurel (Cinnamomum camphora (also known as Laurus camphora) - Oil of leaves and wood)
Cinnamon (Cinnamomum Zeylanicum - Oil of the Bark and leaf)
Eucalyptol (Eucalyptus globules - Ether of Eucalyptus oil)
Eugenol (Eugenia aromaticum - The ether of Clove oil)
Jojoba (Simmondsia chinensis - Oil from the seed)
Menthol Oil (Mentha piperita - Menthol is derived from Peppermint oil.)
Olive (pure virgin (Olea europaea - Oil from the berries)
Peppermint (Mentha × piperita - Oil from the whole plant (above ground) just before flowering)
Pine (Commercial) (Pinus radiata - Oil from the Pine needles)
Turpentine (natural) (Pinus larix (tree resin) - Oil from the tree resin)
Herbs
Aloe Vera (Aloaceae vera - The dried gel)
Gums
Acacia (Acacia decurrens - A fine, off-white powder from the gum)
Seaweeds
Carrageen (Irish Moss) (Chondrus crispus)
Sundries
Glucate cream (natural) (A natural, sweet almond oil-based creamy substance.)
Glycerine (veg) (A sweet tri-atomic alcohol)
U.V. Light-Treated Rain Water