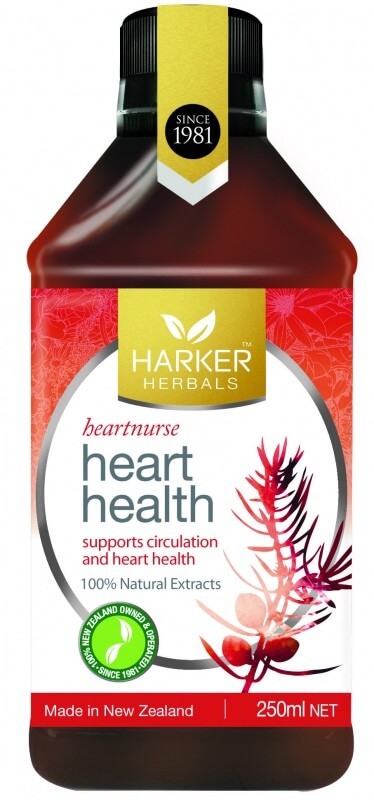 Harker Herbals Heart Health 250ml
Harker Herbals Heart Health Liquid 250ml
Heart Health supports normal function and activity of the heart. A heart elixir and kidney cleanser in one, Heart Health supports kidney health an cleansing and fluid balance. The high silicon / calcium-chloride content of the elixir supports healthy heart function and strength.
Regenerative to the heart muscles, support heart function.
Over weeks and months, Heart Health supports cleansing of the circulatory system for the heart, blood and kidney vessels.
Supports normal blood pressure.
The kidney herbs in Heart Health include - Kumarahou (natural vessel wall detergent), carrageen, hawthorn berry, yellow dock root and clove oil.
Active Ingredients: Oils & Ethers
Aniseed (Pimpinella anisum - Oil of the seed)
Cinnamon (Cinnamomum Zeylanicum - Oil of the Bark and leaf)
Clove Bud (Eugenia caryophyllata - Oil of the buds)
Coriander (Coriandrum sativum - Oil of the seed)
Jojoba (Simmondsia chinensis - Oil from the seed)
Rose (Damask) (Rosa damascena - Oil of the flower petals and leaves)
Herbs
Black cohosh (Cimicifuca racemosa - The root)
Cayenne pepper or Chilli (Capsicum minimum - Dried pods)
Ginger (Zingiber officinalis - The rhizome)
Hawthorn (Crataegus oxyacantha - Flowers and leaves)
Hawthorn berry (Crataegus oxyacantha - The berries)
Kumarahou (Kumarahou pomaderris - Flower and leaf tips)
Licorice (Glycyrrhiza glabra - Syrup made from the powdered root)
Motherwort (Leonurus cardiaca - Whole herb (above ground))
Valerian (Valerian officinalis - The root)
Yellow dock (Rumex crispus - The root)
Seaweeds
Carrageen (Irish Moss) (Chondrus crispus)
Sundries
Celtic sea salt (Mer Sal - Unprocessed, sundried sea salt)
Citric acid (From the latin word 'citrus')
Glycerine (veg) (A sweet tri-atomic alcohol)
Iodine (Iodas ('violet-coloured') - Greek - Natural seaweed ash-derived organic iodine)
U.V. Light-Treated Rain Water

Dosage: Shake bottle vigorously prior to each dose. To accustom to product take a ¼ to ½ dose for the first 2 or 3 days. If taking prescribed medication, consult with your Doctor prior to using 'Malcolm Harker' herbal tonics. Avoid coffee or tea for ¼ hour before and after dose.
Warnings:
Do not exceed stated dose.
Keep out of reach of children.
While some sources suggest that some ingredients contained in this product should not be taken during pregnancy.