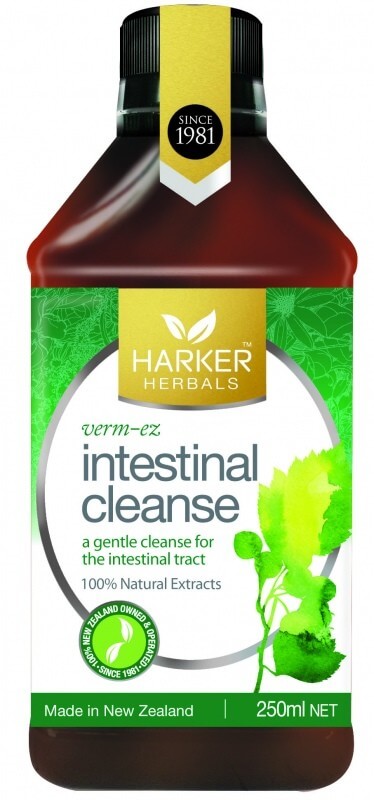 Intestinal Cleanse 250ml
Harker Herbals Intestinal Cleanse Liquid 250ml
An important tonic within the Malcolm Harker range, Intestinal Cleanse acts like a spring clean for the body, improving energy and strength. It provides an excellent platform for achieving better health as it boosts the effects of all herbal tonics and elixirs. A worm-free body heals 90% faster from illness, and as rustic herbs and other foods that naturally keep the body's parasite colonies low are now a lesser part of the modern diet - this is an effective alternative. Encouraged as a first step in alleviating any sub-health state.
Encourages gentle cleansing from the intestinal tract, the blood, glands and organs.
Helps healing in the body due to immune system boosting potential.
Improves feelings of well-being.
Helps essential minerals & nutrients from foods to be absorbed into the bloodstream.
Active Ingredients: Oils & Ethers
Eugenol (Eugenia aromaticum - The ether of Clove oil)
Jojoba (Simmondsia chinensis - Oil from the seed)
Lemon (Citrus limonum - Oil from the lemon rind)
Orange (Citrus aurantium - Oil from the orange rind)
Thymol (Oil from Thymus Vulgaris (Thyme) - A crystalline compound extracted from thyme oil.)
Herbs
Cayenne pepper or Chilli (Capsicum minimum - Dried pods)
Ginger (Zingiber officinalis - The rhizome)
Licorice (Glycyrrhiza glabra - Syrup made from the powdered root)
Walnut (Juglans nigra - The leaf and nut)
Wormwood (Artemisia absinthium - Flower and leaf)
Seaweeds
Carrageen (Irish Moss) (Chondrus crispus)
Sundries
Celtic sea salt (Mer Sal - Unprocessed, sundried sea salt)
Citric acid (From the latin word 'citrus')
Glycerine (veg) (A sweet tri-atomic alcohol)
Iodine (Iodas ('violet-coloured') - Greek - Natural seaweed ash-derived organic iodine)
U.V. Light-Treated Rain Water

Dosage: For optimum health take Intestinal Cleanse four times a year for 7-14 days. Fourteen days is normally sufficient to treat the average healthy person (2 x 230ml bottles for two weeks treatment). Take 5-10mls, 3 to 4 times daily (see dosages on previous page).
Chronic Disease only:
'Intensive 6 Week Course' (Highly recommended option). Every 7th day, take 20mls 1 ¼ hours apart from 7am until 12 Noon. Have lunch 1 hour later. Do this for at least 6 weeks. Drink plenty of New Zealand Spring Water during treatment to help flush out cellular toxins.