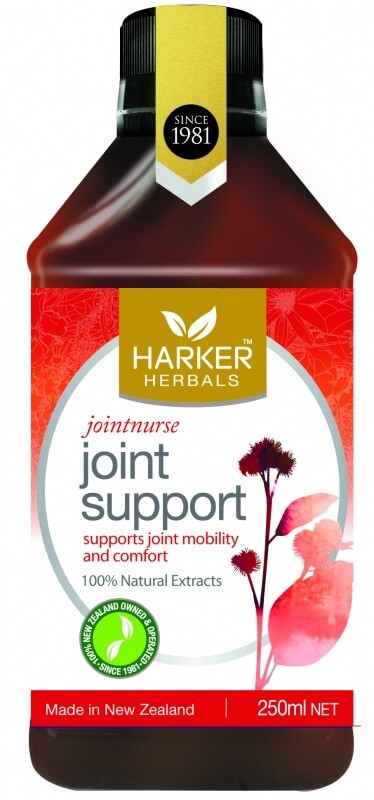 Joint Support 250ml
Harker Herbals Joint Support Liquid 250ml
Joint Support has been formulated to support joint mobility and comfort. The herbs and pure plant oils included in this elixir specifically support flexibility and comfort. Celtic Sea Salt within the elixir, rich in cell nutrients. The salt helps to restore blood fibrin and provides potassium chloride to heart muscles. This formula contains certified organic bee venom obtained from bees without harming them.
A daily tonic, Joint Support may support joint mobility.
Supports joint comfort.
Supports sleep and helps to alleviate stress.
Helps to correct nutritional disorders.
Avoid
- mucus-forming foods such as gluten, egg-white, chocolate, sugar, dairy, polyunsaturated oils, regular salt.
Active Ingredients: Oils & Ethers
Aniseed (Pimpinella anisum - Oil of the seed)
Ginger (Zingiber officinale - Oil from the rhizome)
Jojoba (Simmondsia chinensis - Oil from the seed)
Lemon (Citrus limonum - Oil from the lemon rind)
Lime (Citrus aurantifolia (also known as Citrus medica var. acida and C. latifolia) - Oil from the lime rind)
Orange (Citrus aurantium - Oil from the orange rind)
Herbs
Black cohosh (Cimicifuca racemosa - The root)
Blackberry root (Rubus fructicosus - The root)
Cayenne pepper or Chilli (Capsicum minimum - Dried pods)
Elecampane (Inula helenium - The root)
Ginger (Zingiber officinalis - The rhizome)
Gorse (Ulex europaeus - Tips and flowers)
Horsetail (Equisetum arvense - The whole herb (above ground))
Kumarahou (Kumarahou pomaderris - Flower and leaf tips)
Licorice (Glycyrrhiza glabra - Syrup made from the powdered root)
Oatstraw (Avena sativa - Oatstraw)
Rhubarb root (Rheum palmatum - The root)
Sarsaparilla (Smilax ornata - The root)
Valerian (Valerian officinalis - The root)
Yellow dock (Rumex crispus - The root)
Seaweeds
Carrageen (Irish Moss) (Chondrus crispus)
Sundries
Bee Venom
Celtic sea salt (Mer Sal - Unprocessed, sundried sea salt)
Citric acid (From the latin word 'citrus')
Glycerine (veg) (A sweet tri-atomic alcohol)
Iodine (Iodas ('violet-coloured') - Greek - Natural seaweed ash-derived organic iodine)
U.V. Light-Treated Rain Water

Dosage: Adults - 5 to 10mls, three to four times daily.

Warnings:
Do not exceed stated dose.
Keep out of reach of children.
Some sources suggest that some ingredients contained in this product should not be taken during pregnancy.