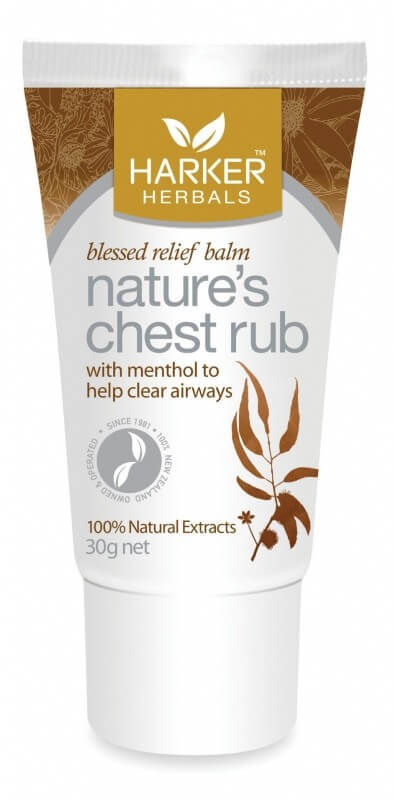 Nature's Chest Rub 30g
Harker Herbals Nature's Chest Rub 30g A soothing chest rub with menthol to help clear the airways. Non-greasy lotion absorbs directly into skin. May be rubbed directly into nostrils in severe cases of congestion.
A chest balm that soothes and helps clear airways.
Provides relief and cooling when applied topically.
Ideal for children and elderly persons.
May be inserted into the nostrils directly.
Apply to the soles of the feet in all unwell cases.
Active Ingredients: Oils & Ethers
Almond (Sweet) (Amygdalus communis - Oil of the nut)
Camphor Laurel (Cinnamomum camphora (also known as Laurus camphora) - Oil of leaves and wood)
Cinnamon (Cinnamomum Zeylanicum - Oil of the Bark and leaf)
Eucalyptol (Eucalyptus globules - Ether of Eucalyptus oil)
Eugenol (Eugenia aromaticum - The ether of Clove oil)
Menthol Oil (Mentha piperita - Menthol is derived from Peppermint oil.)
Olive (pure virgin (Olea europaea - Oil from the berries)
Peppermint (Mentha × piperita - Oil from the whole plant (above ground) just before flowering)
Pine (Commercial) (Pinus radiata - Oil from the Pine needles)
Rose-geranium (Pelargonium graveolens - Oil of the flower petals)
Tea Tree (Melaleuca alternifolia - Oil from the leaf)
Wintergreen (Gaultheria procumbens - Oil of the berry)
Herbs
Aloe Vera (Aloaceae vera - The dried gel)
Gums
Acacia (Acacia decurrens - A fine, off-white powder from the gum)
Seaweeds
Carrageen (Irish Moss) (Chondrus crispus)
Sundries
Glucate cream (natural) (A natural, sweet almond oil-based creamy substance.)
Lanolin (anhydrous USP) (Lana oleum - Sheeps wool fat)