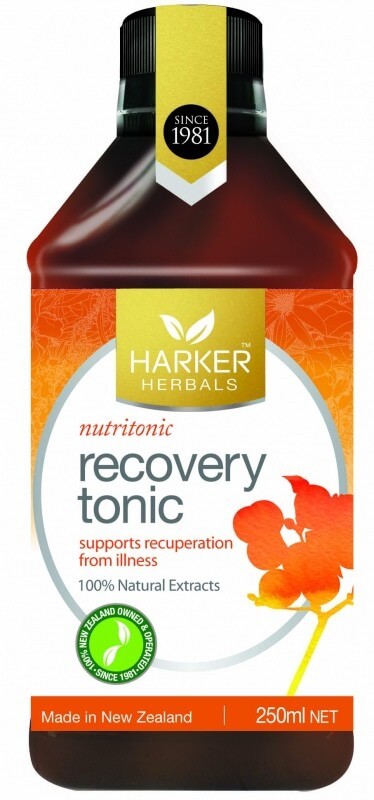 RecoveryTonic 250ml
Harker Herbals Recovery Tonic 250ml
Recovery Tonic combines constitutional nutrient-tonic properties with immunity strengthening properties to create a mineral and vitamin rich remedy of great therapeutic value for body health. The tonic contains minerals found in sea plants that help to create healthy blood. Minerals, vitamins and enzymes provide potent assistance to strengthen and restore the body after illness.
Restores body from fatigue, stress, convalescing & for blood & cell fortification.
Good for low energy, low mood and worry, also supports healthy
Immune System functions.
Ideal daily nutrient tonic for the elderly, active people & babies.
Valuable for mild cases of malnutrition.
Provides blood & tissue rebuilding minerals & vitamins.
Active Ingredients: Oils & Ethers
Aniseed (Pimpinella anisum - Oil of the seed)
Coriander (Coriandrum sativum - Oil of the seed)
Jojoba (Simmondsia chinensis - Oil from the seed)
Lime (Citrus aurantifolia (also known as Citrus medica var. acida and C. latifolia) - Oil from the lime rind)
Mandarin (Citrus reticulata (also known as Citrus nobilus, madurensis, unshiu, deliciosa) - Oil from the mandarin rind)
Orange (Citrus aurantium - Oil from the orange rind)
Patchouli (Pogostemon cablin (also known as Pogostemon patchouli) - Oil of the resinous gum)
Rosehip (Rosa canina - Oil of the rosehip (seed))
Herbs
Cayenne pepper or Chilli (Capsicum minimum - Dried pods)
Elecampane (Inula helenium - The root)
Ginger (Zingiber officinalis - The rhizome)
Hop flowers (Humulus lupulus - Hop strobules)
Licorice (Glycyrrhiza glabra - Syrup made from the powdered root)
Oatstraw (Avena sativa - Oatstraw)
Wormwood (Artemisia absinthium - Flower and leaf)
Seaweeds
Carrageen (Irish Moss) (Chondrus crispus)
Kelp, giant (Laminaria)
Sundries
Celtic sea salt (Mer Sal - Unprocessed, sundried sea salt)
Citric acid (From the latin word 'citrus')
Glycerine (veg) (A sweet tri-atomic alcohol)
Iodine (Iodas ('violet-coloured') - Greek - Natural seaweed ash-derived organic iodine)
U.V. Light-Treated Rain Water

Dosage: Take 3-4 times daily as a natural nutrient tonic. Best taken straight or by drops for infants. Can be taken in 50mls of boiled water as a tea. Supplies most blood nutrients. To accustom to product take a ¼ to ½ dose for the first 2 or 3 days. If taking prescribed medication, consult with your Doctor prior to using Harker Herbal tonics. Avoid coffee or tea for ¼ hour before and after dose.
Warnings:
Do not exceed stated dose.
Keep out of reach of children.
While some sources suggest that some ingredients contained in this product should not be taken during pregnancy, Malcolm Harker M.H.D. considers that this product may be taken during pregnancy if the dose is reduced to a ¼ of the recommended dosage during the first 12 weeks of pregnancy or when attempting conception.