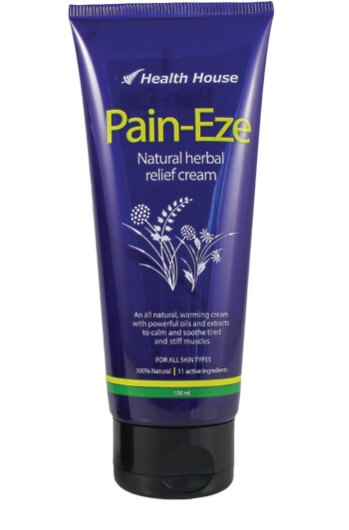 Pain-Eze 100g
Pain-Eze is an all natural, warming cream with powerful oils and extracts to calm and soothe tired and stiff muscles. The pleasant wintergreen fragrance is also very popular with our customers.
The 11 active all natural ingredients
Pain-Eze contains 11 active ingredients.
These are five essential plant oils, four liquid plant extracts, a plant based preservative, all in a natural healthy coconut base.
All ingredients are 100% natural and there are no chemicals, perfumes or additives.
Comfrey Infused Oil contains allantoin, a substance that spreads easily into the underlying tissues of the skin and promotes new cell growth. For thousands of years comfrey has been used for easing bruises, sprains and strains.
Wintergreen Essential Oil relaxes tired and stiff muscles, ligaments and joints.
Arnica Liquid Extract used for centuries by professional athletes to ease strains, sprains and bruises.
Lavender Essential Oil has a relaxing, calming effect, it has been found to be effective in soothing joints and muscles.
Peppermint Essential Oil has calming and cooling properties, for  muscle and joint comfort.
Cayenne Liquid Extract generates heat by increasing the blood circulation under the skin to which it is applied. It also has a calming and soothing effect.
Ginger Liquid Extract also generates heat by increasing blood circulation and has been historically used to help muscle and joint comfort.
Turmeric Liquid Extract has been used for centuries to soothe bruises, joints and muscles.
Clove Essential Oil has natural antiseptic properties.
Tincture of Benzoin is a beneficial treatment for damaged skin and a natural herbal preservative.
Camphor Essential Oil is readily absorbed through the skin and produces a feeling of cooling.
Always read the label and use only as directed.
Not to be taken internally, do not apply to broken or very sensitive skin.
Massage gently into affected area 2 or 3 times daily or as required.
If symptoms persist, come into the health shop, for a chat or phone and make an appointment and see me as a naturopath in my clinic.
Phone: 094264455