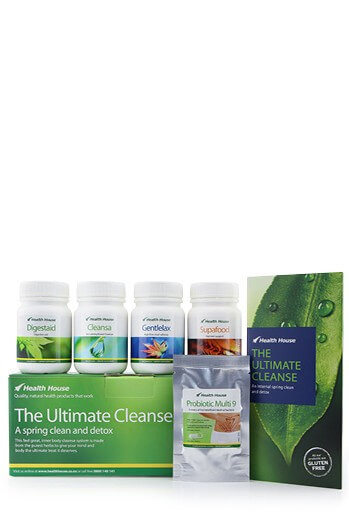 Ultimate Cleanse Kit Health House
The finest and most popular full strength herbal detox and liver and bowel cleansing system available in New Zealand. The same original formulation now with added Probiotic Multi 9 (pouch of 10 capsules), for a complete internal cleanse.
What do I get in the kit?
Full bowel and intestine cleanse - (Gentlelax and Cleansa - 100 capsules each)
Full liver and kidney cleanse (Digestaid - 100 capsules)
Full nutritional support (Supafood - 100 capsules)
Full bowel flora renewal (Probiotic Multi 9 pouch - 10 capsules)
The original and proven Ultimate Cleanse over 22,000 sold.
How The Ultimate Cleanse works:
The Ultimate Cleanse contains 14 highly effective herbs, all in capsule form, to be taken at different times, over a 10 or 25 day period, you choose.
4 easy steps to cleanse your system:
Step 1 Begin by implementing gradual dietary changes for three to seven days.
Step 2 Compacted matter from years of eating unhealthy processed foods is softened by powerful herbs and flushed out of your entire 7m length of intestines.
Step 3 The wholesome herbs and the healing diet recommended during the cleanse, detoxifies and cleans your upper and lower colon, liver, kidneys and lymph system.
Step 4 At the end of the cleanse, your bowel flora (healthy bacteria) is restored to its optimum balance with high quality probiotics.
Many cheap imitations leave out this important step or make you pay extra. Not so with our original Ultimate Cleanse.
By this time you should be feeling like a new person.
Instruction and food guide:
A clear, full colour instruction booklet including shopping lists of healing foods allowed during the cleanse.
What foods am I allowed?
Foods allowed are most vegetables and fruits, plain yoghurt, avocados, olive oil, brown rice, herbal teas, natural flavourings and herbs.
Can I continue to work or travel?
Certainly, as long as you are not far from a toilet. You can be passing motions several times a day.

Always read the labels and use only as directed.
Not recommended while pregnant/ breastfeeding or on blood thinning medication.
If symptoms persist please see your healthcare professional. If you are on prescribed medication please check with your doctor.

If symptoms persist, come into the health shop, for a chat or phone and make an appointment and see me as a naturopath in my clinic.
Phone: 094264455