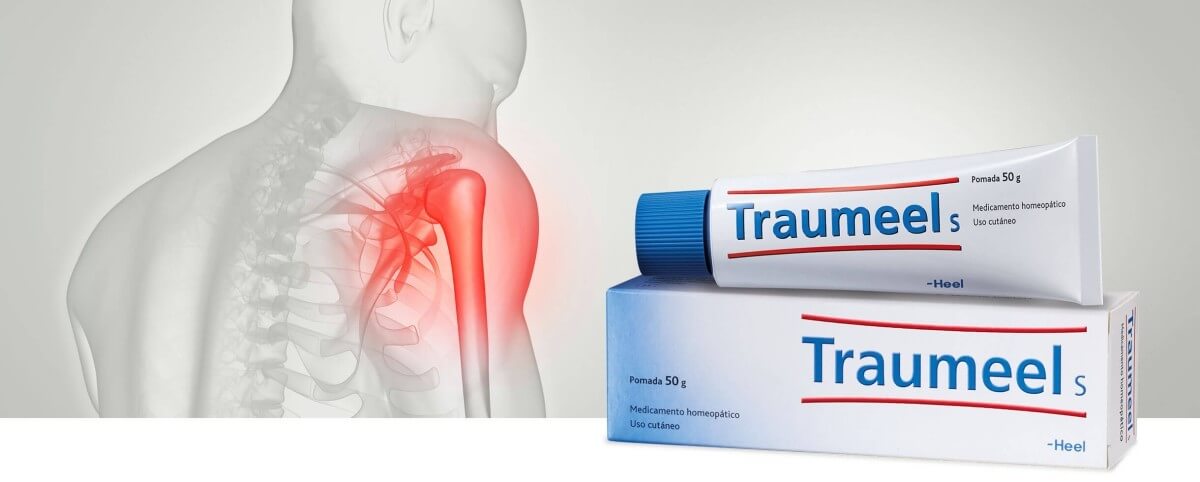 Traumeel Cream 50g
Medicine made in Germany.
Ingredients
Composition (100 g cream contain)
Arnica montana
Calendula officinalis
Hamamelis virginiana
Echinacea angustifolia
Echinacea purpurea
Chamomilla recutita
Symphytum officinale
Bellis perennis
Hypericum perforatum
Achillea millefolium
Aconitum napellus
Atropa belladonna
Mercurius solubilis Hahnemanni             
Hepar sulfuris
Ø
D3 | 1,5 g
Ø | 0,45 g
Ø | 0,45 g
Ø | 0,15 g
Ø | 0,15 g
Ø | 0,15 g
D4 | 0,1 g
Ø | 0,1 g
D6 | 0,09 g
Ø | 0,09 g
D1 | 0,05 g
D1 | 0,05 g
D6 | 0,04 g
D6 | 0,025 g
Excipients
Cetostearyl alcohol, liquid paraffin, solid paraffin, purified water, 96% ethanol Manufactured in accordance with German Homeopathic Pharmacopoeia (HAB) guidelines.
Indication
Treatment of mild to moderate pain associated with trauma and other inflammatory and degenerative processes.
Uses
Treatment of symptoms such as pain and inflammation caused by injuries of various types (sporting, accidents) such as sprains, strains, bruising, haematomas, bone fractures, etc., degenerative processes that progress with inflammation and suppuration of different organs and tissues (for example parodontitis, gingivitis, parodontosis) and of the musculoskeletal apparatus and ligaments (tendovaginitis, bursitis, tennis elbow), osteoarthritis of the hip, knee and small joints.
Warnings
Read the instructions carefully before using this medicine. If the pain and inflammation persist for more than three days after having applied Traumeel S ointment, consult your doctor so that the need for another type of treatment can be ruled out. In the event of acute or very painful bruising or injury you should consult your doctor or attend an emergency department as you may be suffering from a sprain or fracture or other injury that requires additional treatment.
Contraindications
Allergy or hypersensitivity to any of the components. (May occur in isolated cases.)