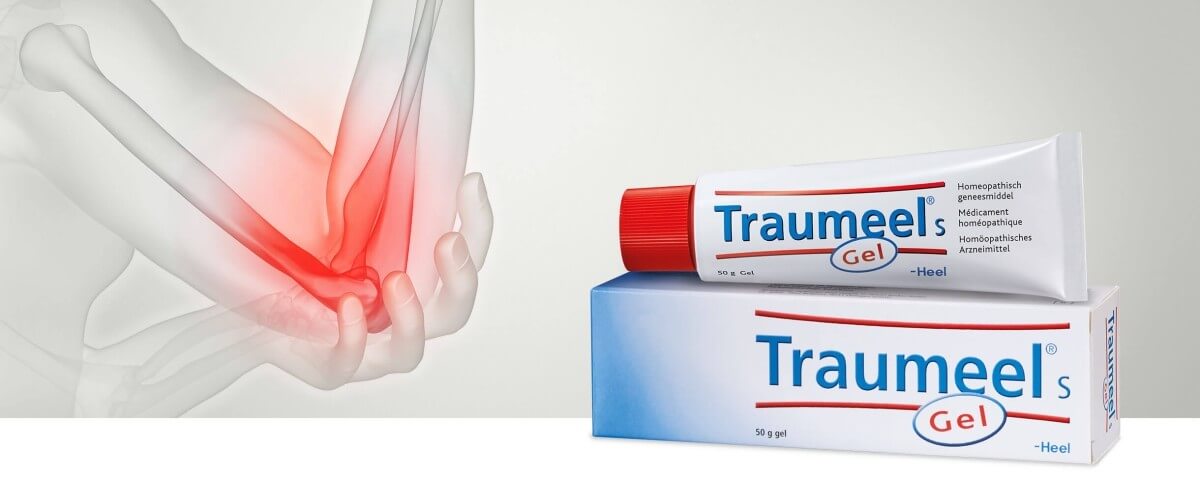 Traumeel Gel 100g
Medicine made in Germany.
Ingredients
Composition (100g gel contain)
Arnica montana
Calendula officinalis
Hamamelis virginiana
Echinacea angustifolia
Echinacea purpurea
Chamomilla recutita
Symphytum officinale e radice
Bellis perennis
Hypericum perforatum
Achillea millefolium
Aconitum napellus
Atropa belladonna
Mercurius solubilis Hahnemanni             
Hepar sulfuris
Ø
D3 | 0,15 g
Ø | 0,045 g
Ø | 0,045 g
Ø | 0,015 g
Ø | 0,015 g
Ø | 0,015 g
D4 | 0,01 g
Ø | 0,01 g
D6 | 0,009 g
Ø | 0,009 g
D1 | 0,005 g
D1 | 0,005 g
D6 | 0,004 g
D6 | 0,0025 g
Excipients
Water, purifed 74,652 g, Ethanol (96 per cent) 18,653 g, Carbomers (Carbopol 980NF) 1,000 g, Sodium hydroxide solution 18 % (m/m) 2,300g. Contains 24,4 vol.-% alcohol.
Indications
The medicinal product is used for the treatment of various inflammatory conditions including injuries, especially of the musculoskeletal system.
Contraindications
Known allergy (hypersensitivity) to one or more of the ingredients, including plants of the daisy family (Asteraceae) such as Arnica montana (arnica), Calendula officinalis (pot marigold), Matricaria recutita (chamomile), Echinacea (coneflower), Achillea millefolium (yarrow), Bellis perennis (daisy).
Special warnings and special precautions for use
Avoid contact with eyes, mucosae, open wounds or broken skin.
Side effects
Like all medicinal products, this homeopathic medicinal product can cause side effects, although not everybody gets them. In isolated cases transient skin reactions (eg. rash, itchiness) have been reported.
Dosage
Standard dosage: Apply 2x daily, or more often if needed. Method of administration:
For external use only. Apply generously to the affected area. Traumeel may be applied using mild compression bandaging and/or occlusive bandaging.