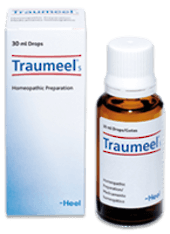 Traumeel® S Drops 30ml drops
Traumeel® S Drops
30ml drops

Traumeel is a totally unique formulation that brings together a number of natural ingredients that target inflammation and promote healing in different, complementary ways.

Uses
Treatment of symptoms such as pain and inflammation caused by injuries of various types (sporting, accidents) such as sprains, strains, bruising, haematomas, bone fractures, etc., degenerative processes that progress with inflammation and suppuration of different organs and tissues (for example parodontitis, gingivitis, parodontosis) and of the musculoskeletal apparatus and ligaments (tendovaginitis, bursitis, tennis elbow), osteoarthritis of the hip, knee and small joints.

Pain relief that doesn't hurt
Multiple benefits that can help you recover from musculoskeletal injuries, sprains and inflammation
Traumeel is a more balanced approach to treating muscle aches of the ankle, knee, neck and lower back
Traumeel works by targeting inflammation in different, complementary ways, easing painful symptoms and restoring normal activity
Traumeel gets you back on track faster than with conventional anti-inflammatory drugs (NSAIDs, or non-steroidal anti-inflammatory drugs)
Because Traumeel is highly targeted, you get the anti-inflammatory benefits you need but not the adverse effects of conventional treatments


Ingredients
Composition (100 g of solution contains)Ø
Arnica Montana D2 5 g

Calendula officinalis D2 5 g

Hamamelis virginiana D2 5 g

Echinacea angustifolia D2 2 g

Echinacea purpurea D2 2 g

Chamomilla recutita D3 8 g

Symphytum officinale D8 8 g

Bellis perennis D2 2 g

Hypericum perforatum D2 1 g

Achillea millefolium D3 5 g

Aconitum napellus D3 10 g

Atropa belladonna D4 25 g

Mercurius solubilis Hahnemanni D8 10 g

Hepar sulfuris D8 10 g



Directions for use
5 drops 1-3 times a day. For acute cases: 5 drops every half hour or hour, followed by the normal dose of 5 drops 1-3 times a day.

Contraindications
Do not use in the case of systemic diseases such as tuberculosis, leukosis, collagenosis, multiple sclerosis, in patients infected with HIV or who have developed AIDS, or other autoimmune diseases as a different type of treatment is required in such patients.

Storage conditions
Keep the container tightly closed at a temperature of no more than 25 °C and protected from light and moisture. Keep out of the reach of children. Do not use this medicine after the expiry date which is stated on the package after EXP. Close the bottle immediately after use.