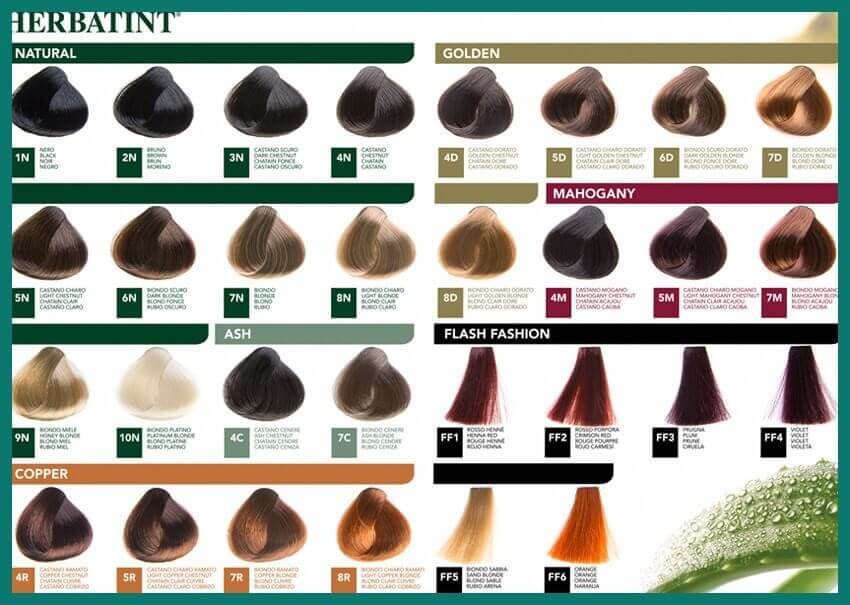 Herbatint 5D Light Golden Chestnut
The Package contains:
1 bottle of Herbatint Glycol Developer 60ml;
Sachet of Normalising Shampoo 15ml;
Sachet of Royal Cream Regenerating Conditioner 15ml;
Plastic Gloves and Application Instructions.
Product Description
Herbatint permanent herbal hair colour in Brown
Grey cover guaranteed. 48 hour skin test advised prior to use. Up to 2 applications per pack.
Product has 12 month shelf life after opening as denoted by jar open symbol on packaging.
Not for use on eyebrows on beards

Ingredients
5D  Laureth-4, Propylene glycol, Aqua (Water), PEG-2 oleamine, Ethanolamine, Oleic acid, Aloe barbadensis (Aloe vera)leaf extract, Hamamelis virginiana (Witch hazel)leaf extract, Betula alba (birch)leaf extract, Echinacea angustifolia (Echinacea)root extract, Juglans regia (Walnut)shell extract, Rheum palmatum (Rhubarb)root extract, Cinchona calisaya (Cinchona)bark extract, PEG-75 meadowfoam oil, Limnanthes alba (Meadowfoam)seed oil, p-Phenylenediamine, pMethylaminophenol sulfate, 2-Methylresorcinol, 4- Chlororesorcinol, Tetrasodium EDTA, Cetrimonium chloride, Simethicone, Sodium metabisulfite, Glycerin. 
  Developer:
INGREDIENTS: Aqua (Water), Hydrogen peroxide, Etidronic acid, Trideceth-9, Cetrimonium chloride,
Simethicone, Propylene glycol, PEG-40 hydrogenated castor oil.
Herbatint Normalising Shampoo sachet
INGREDIENTS: *Aqua (Water), Magnesium laureth sulfate, Cocamidopropyl betaine, *Aloe barbadensis
(Aloe vera) leaf juice, *Moringa pterygosperma (Moringa) seed extract, *PEG-75 Meadowfoam oil,
Imidazolidinyl urea, Palmitamidopropyltrimonium chloride, Parfum(Fragrance), Sodium dehydroacetate,
Propylene glycol, Sodium benzoate, * Citric acid, *Glycerin.
Herbatint Royal Cream Regenerating Conditioner sachet
INGREDIENTS : *Aqua (Water), *Citric acid, Cetyl alcohol, Behentrimonium chloride, *Aloe barbadensis
(Aloe vera) leaf juice, *Moringa pterygosperma (Moringa) seed extract, *Triticum vulgare (Wheat) germ
oil, *Oryza sativa (Rice) bran oil, *Simmondsia chinensis (Jojoba) seed oil, PPG-3 Benzyl ether myristate,
Methyl gluceth-20, Ethoxydiglycol oleate, Isopropyl alcohol, Sodium dehydroacetate, Sodium benzoate,
Parfum(Fragrance), Imidazolidinyl urea, *Tocopheryl acetate, *Glycerin.
Laureth-4, Propylene glycol, Aqua (Water), PEG-2 oleamine, Ethanolamine, p-Phenylenediamine, Oleic acid,
Aloe barbadensis (Aloe vera)leaf extract, Hamamelis virginiana (Witch hazel)leaf extract, Betula alba
(birch)leaf extract, Echinacea angustifolia (Echinacea)root extract, Juglans regia (Walnut)shell extract,
Rheum palmatum (Rhubarb)root extract, Cinchona calisaya (Cinchona)bark extract, PEG-75 meadowfoam
oil, Limnanthes alba (Meadowfoam)seed oil, 4-Chlororesorcinol, Tetrasodium EDTA, 2,4-
Diaminophenoxyethanol HCl, Cetrimonium chloride, Simethicone, Sodium metabisulfite, Glycerin