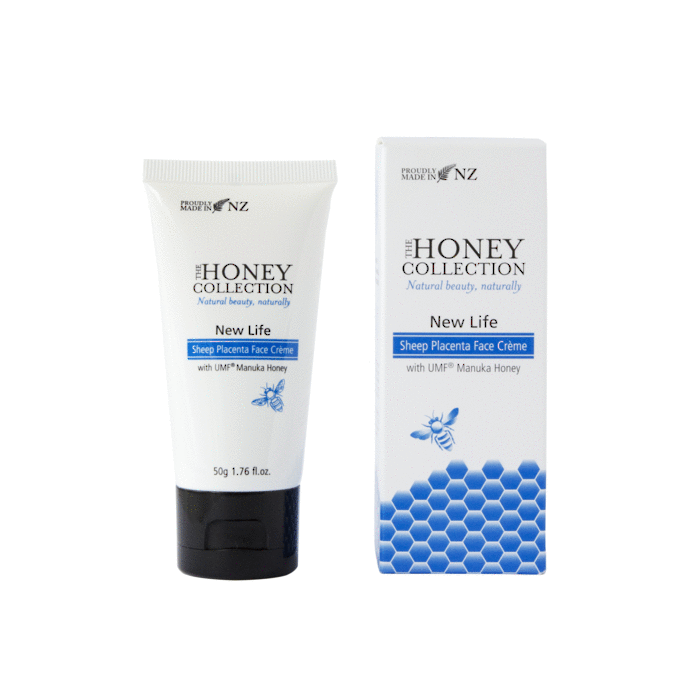 The Honey Collection - New Life Sheep Placenta Face Cream 50g
A rich nourishing face moisturiser with the life giving properties of pure New Zealand sheep placenta extract and UMF™ 12+ Mānuka honey for flawlessly hydrated skin.

Description:
A concentrated, anti-aging, moisturising cream infused with skin-restoring ingredients abundant in proteins, nutrients and vital minerals. Help nourish and recharge skin while providing long-lasting moisture.

How To Use:
Apply directly to your face, neck and chest area morning and night. A perfect product to use after cleansing using the Completely Clean Cream Cleanser.

Skin Concerns:
Wrinkles, premature aging, dry and dehydrated skin.

Key Ingredients:




UMF™ 12+ Mānuka Honey
Sheep Placenta Serum
Avocado Oil
A natural antiseptic, New Zealand Mānuka honey contains minerals, vitamins and enzymes to aid healing. It creates an optimum healing environment, drawing out infections and creating a protective barrier
Our hormone-free Sheep placenta provides an incredibly rich source of proteins, amino acids, vitamins, and various minerals like iron, zinc, and copper to help nourish to improve your complexion
From proteins and fats to sterolin to antioxidants to lecithin and potassium, the amount of beneficial nutrients in Avocado oil are simply innumerable and can have an immediate effect on the texture and appearance of your skin.