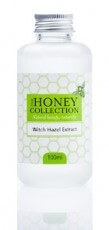 The Honey Collection - Witch Hazel Extract
A herbal extract to help cleanse, nourish and tone the skin.
The Honey Collection Witch Hazel has astringent, antiseptic and haemostatic and mild inflammatory properties.

Witch Hazel is effective for mild damage to the skin such as insect bites, fissure and cracks.

Provides support for bruising, localised inflammation, wounds, ulceration, rashes, itchy skin, fragile capillaries, burns, sunburn, bleeding wounds and general skin care.

Contains Ethyl Alcohol which acts as a natural preservative and also doubles as a disinfectant for any open irritations.
Active Ingredients
100% natural Witch Hazel (Hamamelis Virginiana) extract and Ethanol (Ethyl Alcohol)