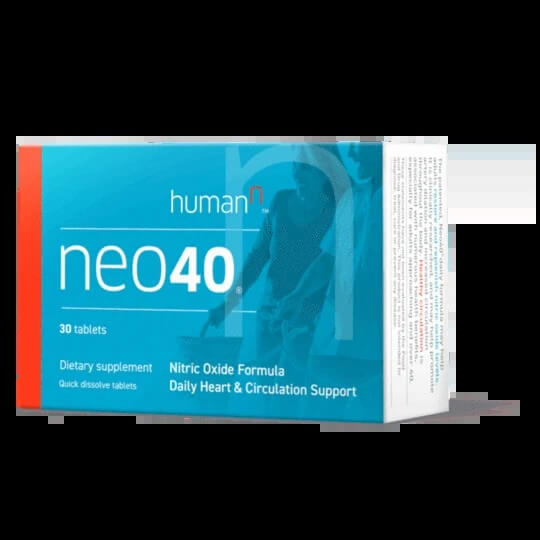 Neo40 lozenges 30
Daily Heart & Circulation Support
Our proprietary, patented Neo40 formula out of the University of Texas Health Science Center's N-O Discovery Program, is a convenient daily supplement that helps to quickly increase your body's Nitric Oxide. In fact, our formula represents a breakthrough in N-O delivery compared to standard L-Arginine supplements or traditional diets aimed at supporting heart health. Neo40 helps:    
Support healthy blood pressure levels already in the normal range
Support cardiovascular and heart health 
Support healthy blood circulation 
Promote artery vasodilation for healthy blood flow 
Increase nitric oxide levels in the body
Provides antioxidant support with an excellent source of Vitamin C
May support respiratory health through Nitric Oxide production
Nitric Oxide is the foundation of our health, essential and tied to most of the body's major physiological systems. Without it, we can't live.  

That's why we've spent years scientifically researching and studying N-O. And why we created Neo40, a concentrated, clinical grade, cardiovascular solution.   Proprietary, one-of-a-kind and patented, Neo40 is a daily supplement that helps to rapidly produce Nitric Oxide in your body, as well as supports the body's ability to produce its own Nitric Oxide over time.   In fact, it is the only technology in the world, out of the University of Texas Health Science Nitric Oxide Discovery Program, that generates authentic Nitric Oxide gas and supports the enzyme that makes Nitric Oxide in the body. 
One tab, once a day.

Take one tab daily and allow it to dissolve on your tongue. Do not swallow the tab whole or place under your tongue. You can take two tabs daily during the 30-45 day restoration loading phase. After 30-45 days, take only one tab daily. Never take more than two tabs in a 24-hour period. Each Neo40 box contains a one-month supply, or thirty tabs. 
Consult your physician prior to taking Neo40 if you're taking 1) organic nitrate medications such as Nitrostat or isosorbide, 2) erectile dysfunction drugs, since the combination of the two may cause an unsafe drop in blood pressure, 3) blood thinner medications, or 4) medications related to lowering blood pressure. Discontinue use and contact your physician if you experience dizziness or fainting.