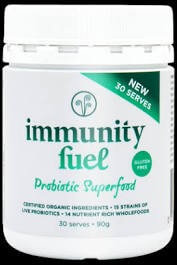 Immunity fuel Gluten free Probiotic Super food 150gr
About this Product
Immunity Fuel Gluten Free Probiotic Superfood is the ultimate combination of billions of live bacteria with the added benefit of organic wholefood nutrition.
The 15 strains of probiotics are fermented with the wholefoods for 3 weeks, during which time the bacteria pre-digest the wholefoods so the nutrients are instantly absorbed into the cells of your body. The live bacteria help to strengthen the immune system and assist the promotion of digestive health. This unique formula detoxifies the body, cleans out the colon and improves food absorption.

Precautions: Always read the label and use as directed. Vitamins and minerals are supplementary to and not a replacement for a balanced diet.
Product Ingredients
Certified Organic Ingredients
13 strains of live lactobacillus bacteria
Lactobacillus acidophilus
Bifidobacterium bifidum
Lactobacillus casei
Lactobacillus helveticus
Lactobacillus bulgaricus
Lactobacillus leichmannii
Lactobacillus caucasicus
Lactobacillus lactis
Lactobacillus fermenti
Lactobacillus brevis
Lactobacillus plantarum
Lactobacillus delbruekii
Bacillus coagulans
2 strains of beneficial yeasts
Saccharomyces boulardii
Saccharomyces cerevisiae
14 gluten free whole foods
Spirulina
Soya beans
Linseed
Chick peas
Lentils
Brown rice
Adzuki beans
Alfalfa grass
Pumpkin seeds
Sunflower kernels
Mung beans
Fresh ginger
Agave liquid
Molasses
Omni minerals
Tags:
Certified Organic
Vegan
Gluten-Free
Made in New Zealand
Dairy-Free
Non-GMO
Adults 1-2 tsp
Children 1/8 tsp
Infants a pinch-1/8 tsp