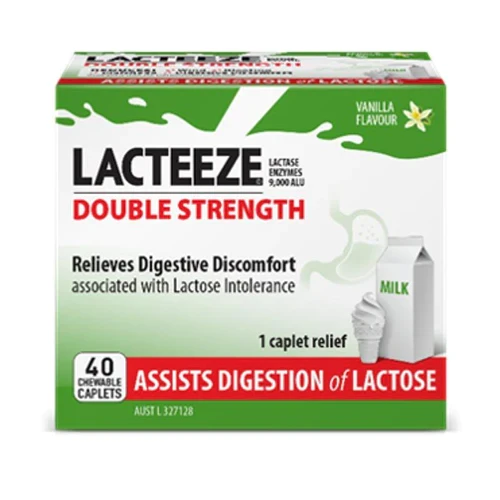 Lacteeze Double Strength chewable 40s
Lacteeze aids the digestion of dairy by the temporary increase in lactase enzymes in the digestive system to provide relief from gas, bloating, abdominal cramps and diarrhoea associated with the digestion of dairy. This allows the lactose in dairy to be digested naturally. Double strength for 1 caplet relief.
Dextrose, lactase (9,000 FCC lactase units), microcrystalline cellulose, calcium stearate. Lacteeze is all natural and contains no preservatives, artificial colours or flavours. FREE from Yeast, Dairy, Gluten, Egg and Nut. Certified Kosher. Pleasant mild vanilla flavour.
Simply chew or swallow 1 Lacteeze Double Strength caplet just before consuming dairy foods. Repeat the dose if you continue to eat dairy after 1 hour. Adjust the dose to suit your individual needs. Lacteeze Double Strength caplets should be taken every time you consume dairy products. Lacteeze remains in your digestive system for about one hour.