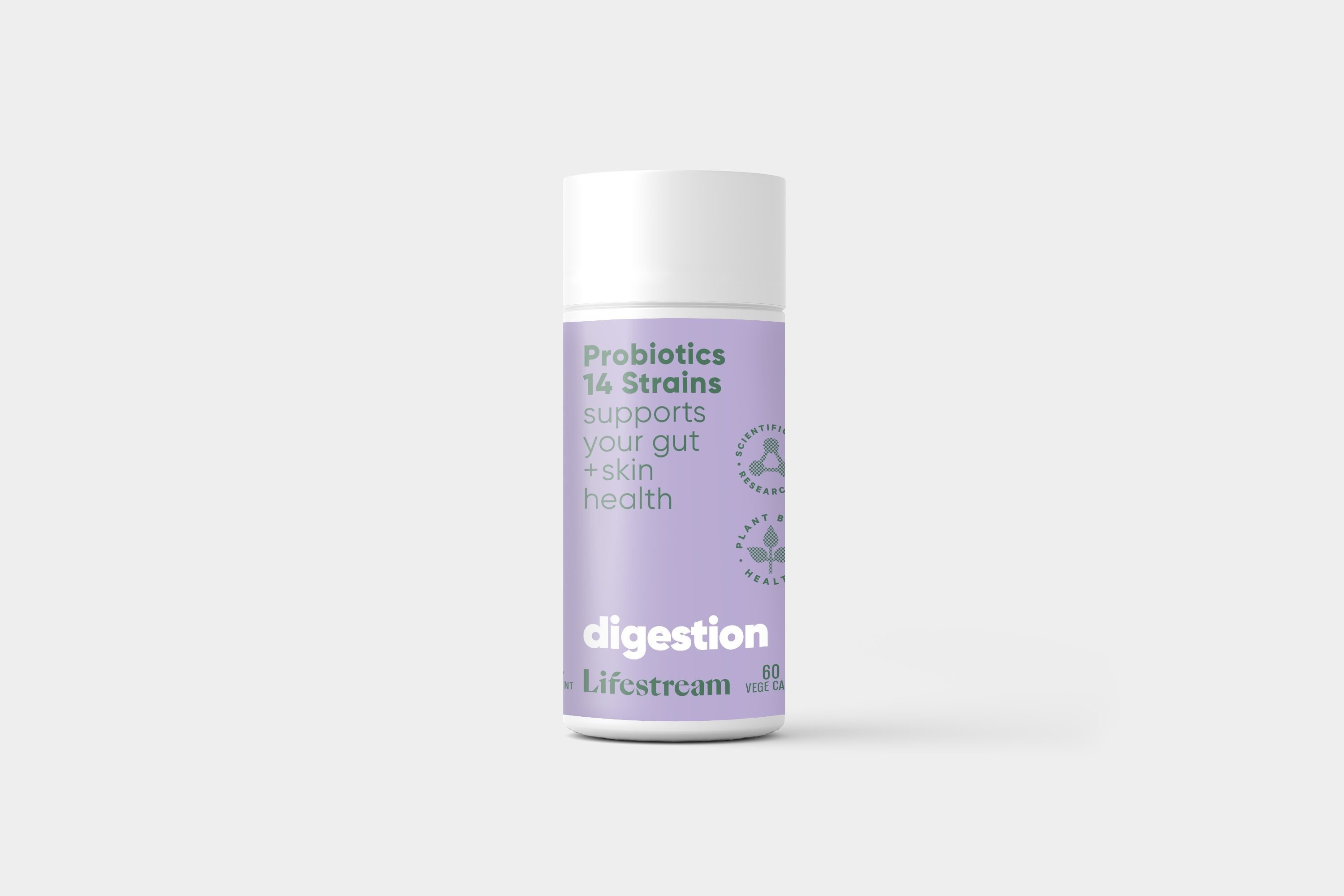 Advanced Probiotic Capsules 60
Lifestream Advanced Probiotics
is a unique 14-strain multi-species probiotic that supplies beneficial bacteria for optimal digestive health and wellbeing.
Helps support the immune system
Promotes healthy intestinal function and elimination
Supports the growth of beneficial bacteria
Supports healthy digestion
Lifestream Advanced Probiotics are micro-encapsulted; thus remaining stable in the acid conditions found in the stomach for true efficacy, along with eliminating the need for the product to be refrigerated.
Active Ingredients: Each VegeCap Contains: minimum of 2 billion probiotic microorganisms per capsule:
Bacillus subtillus PXN 21, Bifiobacterium bifidum PXN 23, Bifiobacterium breve PXN 25, Bifiobacterium infantis PXN 27, Bifiobacterium longum PXN 30, Lactobacillus acidophilus PXN 35, Lactobacillus delbrueckeii ssp. bulgaricus PXN 39, Lactobacillus casei PXN 37, Lactobacillus plantarum PXN 47, Lactobacillus rhamnosus PXN 54, Lactobacillus helveticus PXN 45, Lactobacillus salivarius PXN 57, Lactococcus lactis ssp. lactis PXN 63, Streptococcus thermophilus PXN 66.
Also Contains: Cellulose, hypromellose vegetarian capsule. Lifestream Advanced Probiotics is free from all GMO ingredients, gluten, artificial colours or flavours, preservatives or synthetics and is suitable for vegetarians.

Dosage: Adults: Take 1 - 2 capsules once or twice daily with food.
Children 6-12 yrs: Take half the adult dose.
If you are taking antibiotics: Take four capsules daily, ideally at a different time of day from the antibiotics. Continue taking for at least 2 weeks after completion of the antibiotic course.
Warnings:
Contains naturally occurring beneficial microorganisms which have been previously shown to be safe to take during pregnancy. However, we would always recommend that advice should be sought from your GP/Health Care Practitioner whenever taking supplements whilst pregnant.
Contains traces of soya and milk products at a level which would not affect lactose intolerant sufferers.
Always read the label and use only as directed. If symptoms persist see your healthcare professional.