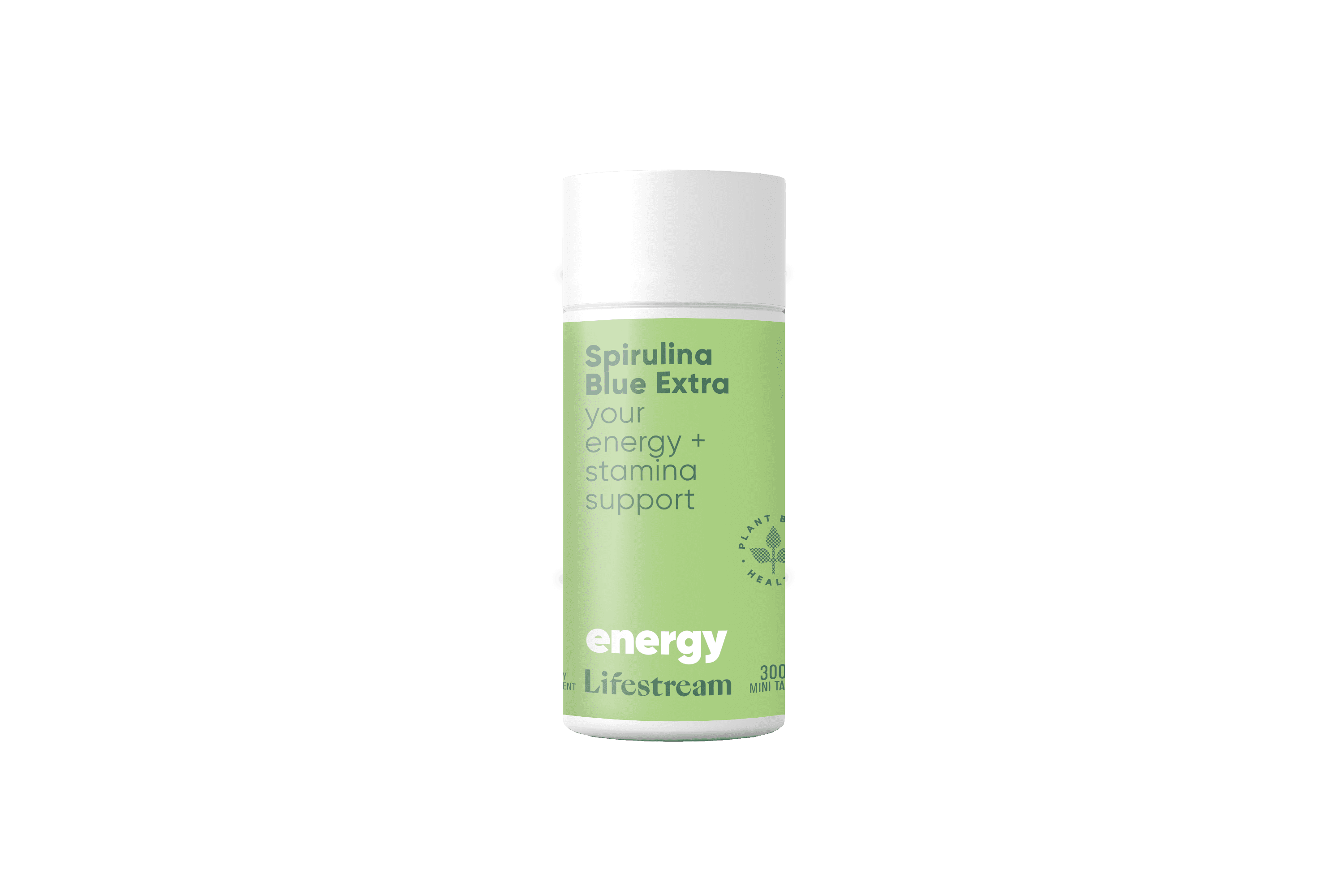 Spirulina Blue Extra Mini Tabs 300
Lifestream Spirulina Performance is a nutrient-rich superfood that provides extra strength energy and antioxidant support with a natural vanilla taste. Ideal for busy, active or stressful lifestyles with higher levels of phycocyanin than Lifestream's other spirulina. When taken as a part of a healthy diet made up of a variety of foods.
Lifestream Spirulina Performance:
Provides iron and vitamin B12 that supports increased energy demands
Supports high performance and muscle recovery
Provides protection against oxidative stress
Is naturally bioavailable
The spirulina is grown away from pollution in pure mineral-rich water. It is non-GMO and sustainably sourced by the global leaders in microalgae research and cultivation.
Why is Lifestream Spirulina Performance so unique?
The spirulina is grown away from pollution in pure mineral-rich water. Lifestream Spirulina Blue contains higher levels of the powerful antioxidant phycocyanin.  A potent superfood for supporting normal immunity, vitality and well-being. Lifestream Blue Performance helps to support in times of stress, busy lifestyles and recovery. An ideal option for when you may need extra strength support.
What is phycocyanin?
Phycocyanin is a powerful antioxdant, found naturally in spirulina. Lifestream Spirulina Blue is a potent source of phycocyanin making it an Extra Strength product. Spirulina Blue is an ideal option in times of stress and extra demand. Helping healthy immunity, everyday health, recovery and protection for when we may need it most.
Who would use Lifestream Spirulina Blue ?
Lifestream Spirulina Blue is suitable for a wide range of people. It is an great option for anyone needing more support, energy or looking for better recovery support. It is a highly available superfood algae containing a powerful blend of super plant antioxidants, nutrients, vitamins and minerals.
Adults:  10 tabs (2.5g) daily
Children 6-12 yrs: 5 tabs (1.25g) daily
Increased amounts can be taken as advised by your healthcare professional