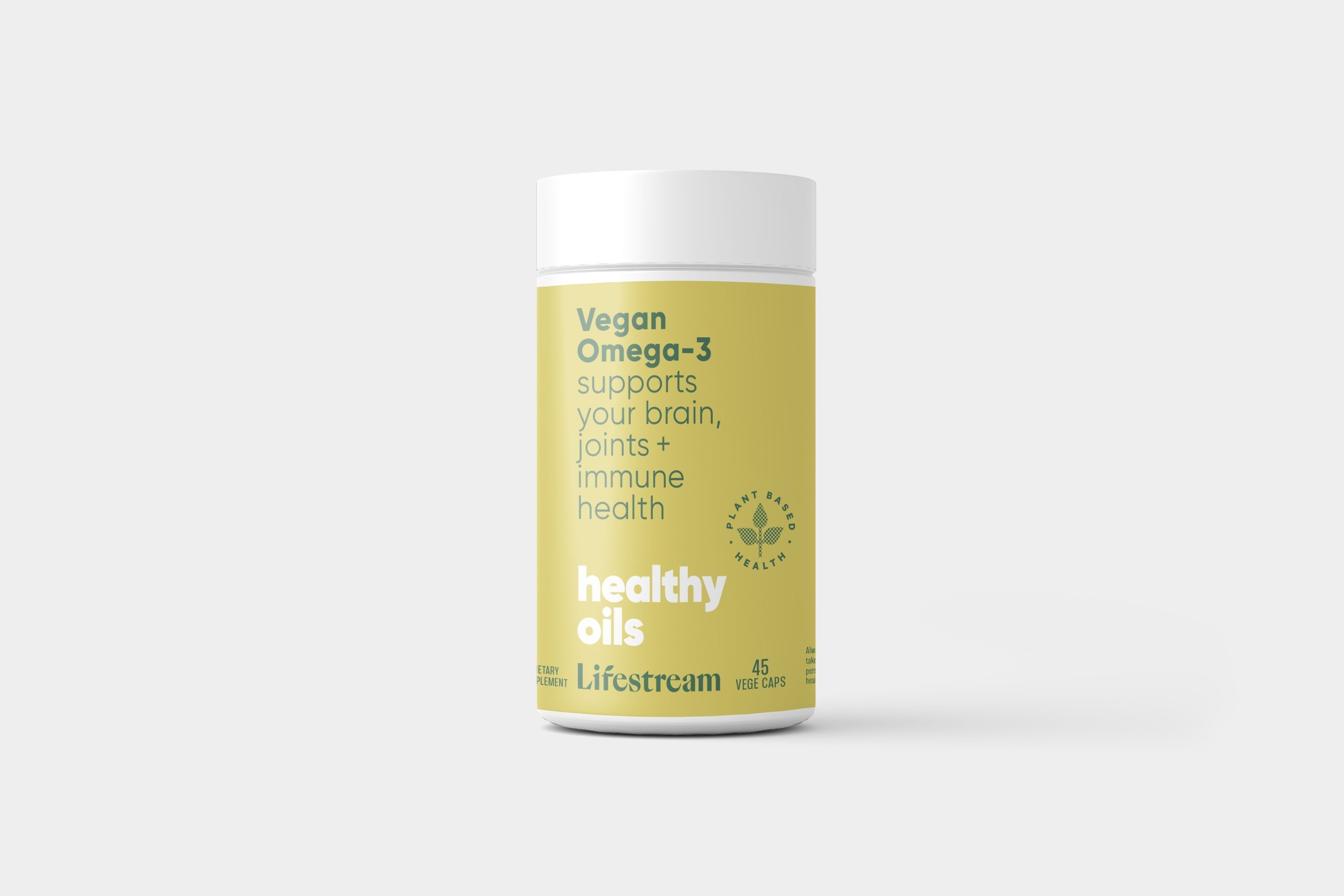 V-Omega 3 Capsules 45 & 90
Lifestream V-Omega 3 is a high strength formula providing DHA, EPA and the recommended daily intake of plant-based vitamin D3, with no fishy smell or after taste.
Lifestream V-omega 3 supports:
Mental focus and mood
Heart health
Joint and bone health
Skin
V-Omega 3 is derived from marine microalgae, the original source of EPA and DHA. This guarantees a vegetarian, sustainable product, free from fish, mercury and other contaminants. Also contains: sunflower oil ,rosemary extract, ascorbyl palmitate, & tocopherols in a vegetarian and non-GMO capsule. This product is vegan. No added dairy, soy, gluten or wheat.

Why take Omega 3?
Omega 3 essential fatty acids (EPA & DHA) are named as such, as they are essential to our health. Unfortunately, we can't synthesise these ourselves, therefore the only way to obtain them is through our diet and supplementation. They are integral to the suppleness and health of all cells and have been shown to provide many positive benefits for brain function, cardiovascular and nervous systems, joint health and mobility.
What is unique about Lifestream V-Omega?
Lifestream V-Omega 3, derived from marine microalgae, is 100% natural and free from heavy metals. This high strength DHA product with EPA and plant-derived Vitamin D contains 66% more DHA per capsule than standard fish oils, without the fishy smell or aftertaste!
Did you know that fish don't naturally produce Omega 3 EPA & DHA? The reason fish contains essential fatty acids is because they consume algae. It is the algae that naturally produce EPA & DHA and Lifestream has gone straight to this pure source. Lifestream V-Omega 3 is designed to offer the benefits of these essential nutrients from a plant-based, sustainable resource, free from impurities and contaminants

.Adults: 1-2 caps daily
Children 6-12 yrs: 1 cap daily
Always read the label and take as directed.
Store below 30°C and away from direct sunlight. Do not use if the cap seal is missing or broken.
Vitamin supplements should not replace a balanced diet.