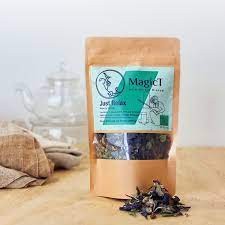 Magic T Just Relax 20g
MagicT's Just Relax is a carefully crafted herbal blend made with a combination of natural ingredients including Lavender, Persian Echium, Valerian Root, Lemon Balm, Thyme, and Orange Blossom. Each ingredient is selected for its unique properties that help to soothe the mind and body, making this tea perfect for unwinding and destressing.
Lavender is known for its calming and relaxing properties, while Persian Echium helps to ease stress and enhance mood. Valerian Root is a powerful natural sedative that helps calm the nervous system and promote restful sleep. Lemon Balm and Thyme are also known for their calming effects, and Orange Blossom provides a refreshing and uplifting aroma to the blend.
At MagicT, we believe in providing high-quality products made with the best natural ingredients. Our Just Relax tea is naturally caffeine-free, free from artificial colours, flavours, and preservatives, and carefully packaged to retain its freshness and potency.
Whether you're looking to unwind after a long day or looking for a natural way to help promote restful sleep, Just Relax tea is the perfect solution. So why not try it today and experience the magic of this herbal blend for yourself?