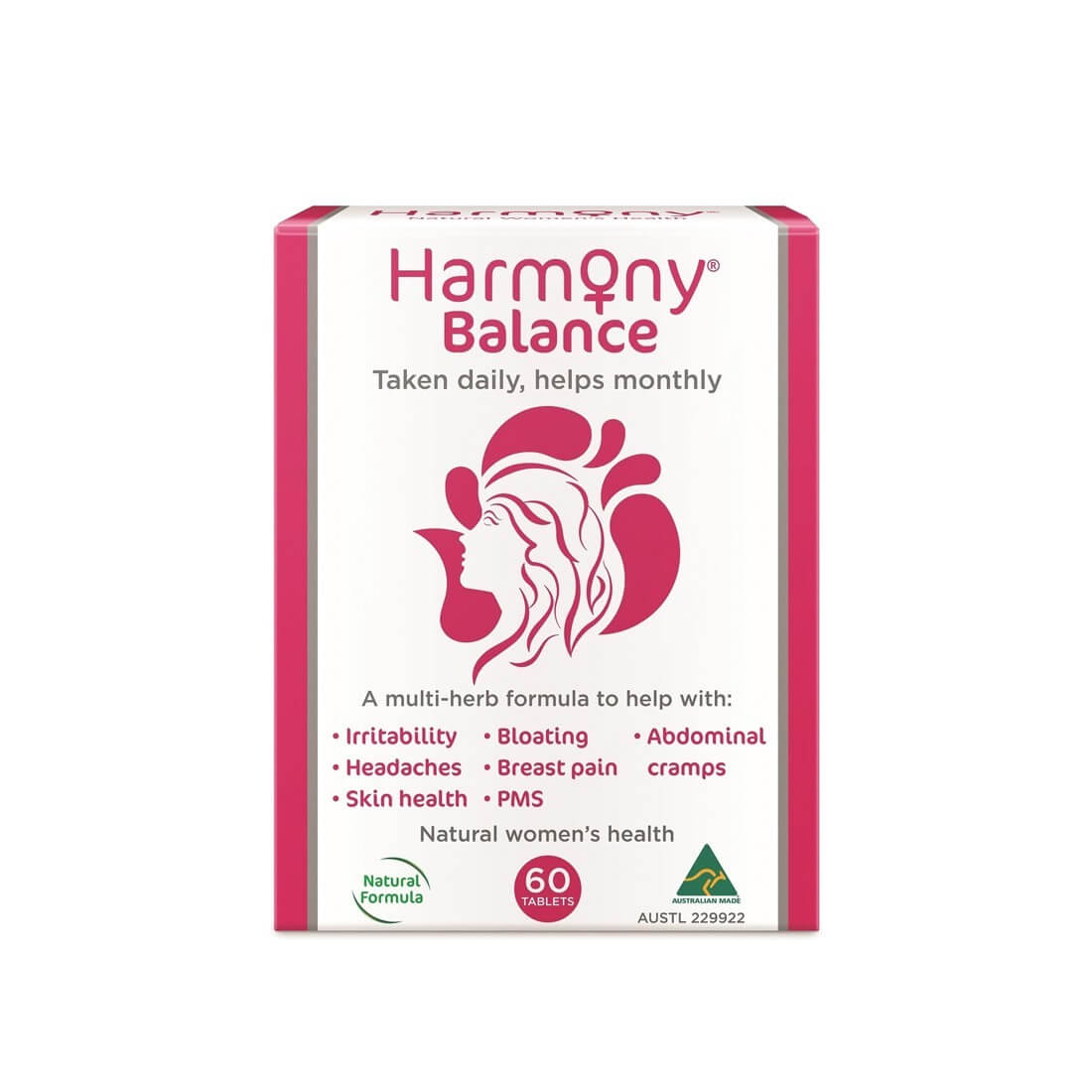 Harmony Balance 60 Tabs
Harmony Balance is formulated with a combination of Chinese & Western herbs, vitamin D3 and B6, to assist with the symptoms of PMS and the regulation of the menstrual cycle. Designed to be taken on a daily basis, Harmony Balance helps to support skin health whilst providing relief from mild mood swings and painful period cramps.
Traditionally used in Chinese & Western herbal medicine to reduce:
Irritability
Headaches
Bloating
Breast pain
PMS
Abdominal cramps
Taken daily, helps monthly. Premenstrual syndrome (PMS, also known as Premenstrual Tension or PMT) effects up to 75% of women* at some point during their monthly cycle. Many difficult physical and emotional symptoms have been linked to PMS. Harmony Balance has been especially formulated to help combat symptoms and balance the female hormones, providing much needed relief from:
Menstrual cramps
Mood swings
Irritability
Anger and/or aggressive outbursts
Mild anxiety
Breast tenderness and/or swelling
Fluid retention
Fatigue
Headache
Harmony Balance contains 
Vitex agnus-castus fruit (Chaste Tree), 
clinically shown to reduce the severity of PMS symptoms including headaches, breast tenderness, anger, irritability and mood swings. Harmony Balance is also blended with 
Angelica polymorpha root (Dong Quai)
 and 
Paeonia lactiflora root (Peony),
 both are tonic herbs traditionally used to help with pain relief and to provide nourishment and build reserves of energy. 
Bupleurum falcatum 
is added to this formula to help relieve irritability and mild anxiety. 
Harmony Balance does not contain Black cohosh (Cimicifuga racemosa or Actaea racemosa).
Active Ingredients:Each Tablet Contains:

Extracts equiv. to dry:

Vitex agnus-castus (Chaste Tree) 175mg
Angelica polymorpha (Dong Quai) 2gm
Paeonia lactiflora (Peony) 2gm
Bupleurum falcatum root 1gm
Vitamin D3 150IU (Cholecalciferol) 3.75ug
Vitamin B6 (from Pyridoxine hydrochloride) 25mg

Also contains*: Calcium hydrogen phosphate, Cellulose - microcrystalline, Croscarmellose sodium, Hypromellose, Silica - colloidal anhydrous,  Magnesium stearate, Chlorophyllin - copper complex, Carnauba wax, Tablet coating - proprietary ingredient Pl 4029.

Free from: Wheat, gluten, dairy.

*Excipients used in Harmony PMS are all naturally derived and are not in doses high enough to have a therapeutic effect.