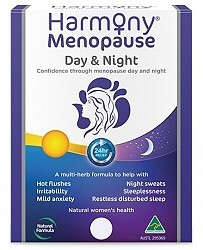 Harmony Menopause Day & Night 45 Tab
Harmony Menopause Day & Night Tablets 45
 Harmony Menopause Day and Night is a synergistic blend of herbs traditionally used to help relieve symptoms of menopause and promote a good night's sleep. Harmony Menopause Day and Night formulation specifically addresses menopause symptoms where sleeplessness is of major concern. The potent night formula helps relieve night sweats, sleeplessness and restless disturbed sleep. Our other Harmony formulations also help with sleeplessness. However, Harmony Menopause Day and Night has the addition of the sleep specific herb Ziziphus jujube seed in a high therapeutic dose of 10g. Our formula also has additional symptom relief to help provide support for hot flushes, mild anxiety and irritability.
Active Ingredients:Day tablet:Rehmannia glutinosa root: 1.2gVitex agnus-castus fruit (Chaste Tree): 100mgAngelica polymorpha root (Dong Quai): 200mgDioscorea opposita root (Chinese Yam): 200mgPaeonia lactiflora root (Peony): 200mgBupleurum falcatum root: 200mgCalcium hydrogen phosphate: 350gm.  Equiv calcium 81.6mgCalcium amino acid chelate: 50mg.  Equiv calcium 10mgMagnesium amino acid chelate:50mg.  Equiv magnesium 10mg),Cholecalciferol: 2.5mcg (Vitamin D3 100IU) Night tablet:Rehmannia glutinosa root: 7.6gZiziphus jujube seed: 10g, 
Dosage:Take 2 DAY tablets in the morning. Take 1 NIGHT tablet in the evening Tablets can be taken with water or juice, before meals or at least one hour after meals.
Warnings:
Discontinue use if pregnancy occurs or you develop sensitivity to the formula.
If you are taking a course of hormone medication, seek advice from your prescribing practitioner.