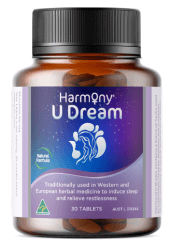 Harmony U Dream 30 Tabs
Harmony U Dream Tablets 30
 A natural multi-herb formula traditionally used in Western and European herbal medicine to induce sleep and relieve restlessness.


Key benefits:
Multi-herb formula
Contains high dose zizyphus
Contains sour cherry which contains natural melatonin and hops which activates melatonin receptors
Contains magnesium for muscle function
Competitive RRP
Simple dosing – one tablet in the evening, 30 minutes before retiring for sleep
ACTIVE INGREDIENTS – per tablet:
Zizyphus jujuba seed (Zizyphus) 10g
Humulus lupulus, flower (Hops) 1.5g
Prunus cerasus fruit (Sour cherry) 1.2g
Magnesium citrate anhydrous 494mg
(equivalent magnesium 80mg) Naturally derived excipients:
Colloidal anhydrous silica, magnesium stearate, croscarmellose sodium, calcium hydrogen phosphate dihydrate, microcrystalline cellulose, hypromellose, carnauba wax

Warnings:
 Do not drive or operate heavy machinery after taking tablet as drowsiness may occur.
Avoid taking with alcohol or products with sedative properties.
Magnesium supplementation should be used cautiously in people with compromised renal function.
Certain medications may interact/bind with magnesium.
Do not use in children less than 12 years of age.
Not recommended during pregnancy or breastfeeding unless professionally prescribed.