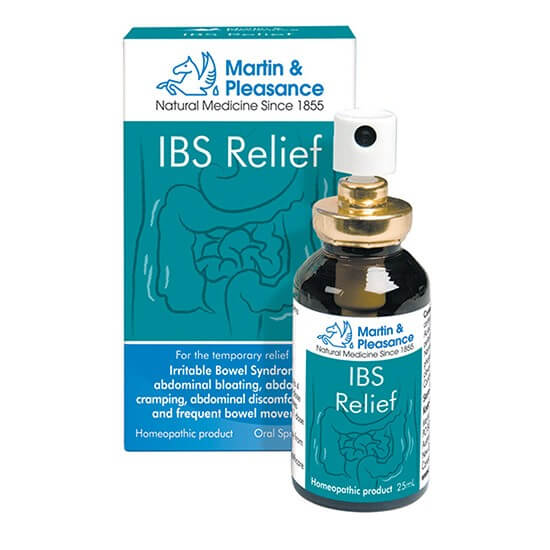 IBS Relief Spray 25ml
Martin & Pleasance's range of 10 oral sprays combine traditionally prepared homeopathic remedies with Schuessler Tissue Salts, specially prepared micro doses of minerals. Homeopathic formulations stimulate the body's own ability to assist in restoring natural equilibrium and health.
These lactose free sprays can be used by everyone, including pregnant and breastfeeding women, babies, children and people currently on other medications. Simply match the cost effective sprays with the common aliments on the front of the pack Martin & Pleasance proudly prepare our natural remedies using traditional methods in our own laboratory
Use:
For the temporary relief of irritable bowel syndrome, abdominal bloating, cramping or discomfort, urgent and frequent bowel movements.
Dosage:
Adults: 1 dose is 4 sprays
Children (ages 2-12): 1 dose is 2 sprays
Acute dose: Take 1 dose every 30 minutes, until symptoms subside, up to 4 doses, then continue a maintenance dose of 1 dose 4 times per day (max 8 doses per day).
Maintenance dose: Take 1 dose 4 times daily.
Directions:
Spray under the tongue
For best results take 10 minutes away from food and/or cleaning teeth.
LACTOSE FREE
Assists with:
Irritable Bowel Syndrome
Abdominal bloating, cramping & discomfort, urgent & frequent bowel movements.
Also, useful when trying to lose weight, for the discomfort that follows from changing our diet. Useful for constipation.
Available in:
25mL Spray
Ingredients:
Homeopathics:
Kali carb 12C, Argentum nitricum 12C, Acidum phosphoricum 12C, Podophyllum 6C, Chelidonium 12C and Lycopodium 6C
Tissue Salts:
Mag Phos 6X and Nat Sulph 6X
Warnings:
Always read the label and use only as directed. If symptoms persist consult your healthcare professional.