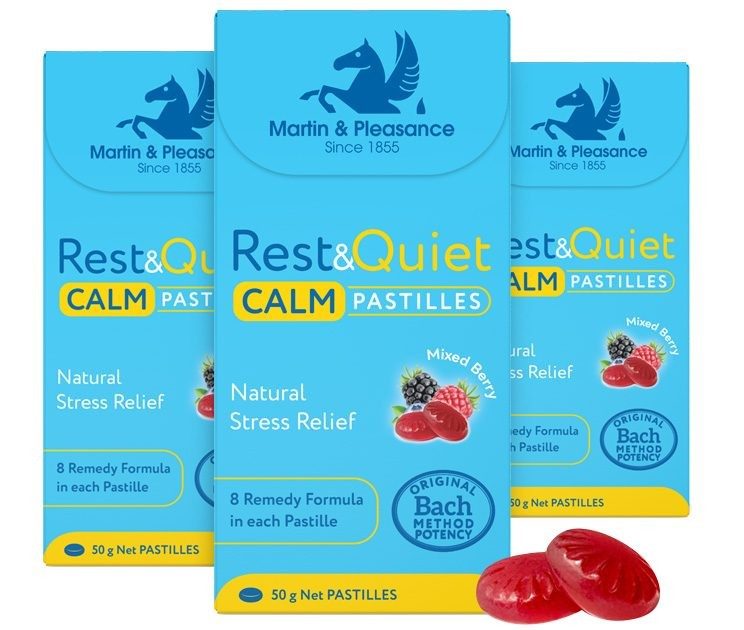 Rest & Quiet Calm Pastilles
Rest&Quiet Calm Pastilles contains 4 drops of the Calm formula of the 8 remedy formula in each pastille. Made with Dr Bach's original formulation (Cherry Plum, Clematis, Impatiens, Rock Rose & Star of Bethlehem) with an additional 3 remedies (Aspen, Mimulus & White Chestnut) to give the emotional support to overcome our daily stressors that we now face in our ever-changing world.
Your moment of calm. Manufactured to Dr Bach's original potency method & specifications.
Now available in a delicious Mixed Berry flavour
Alcohol Free
Not diluted to homeopathic potency
Suitable for breastfeeding & lactation
Gluten Free
Flower remedies & indications
Original Dr Bach formula:
Cherry Plum - Self-control
Clematis - Concentrated & grounded
Impatiens - Patience & forgiveness
Rock Rose - Calm
Star of Bethlehem - Accepting of the inevitable
With additional:
Aspen - Optimism & trust
Mimulus - Bravery
White Chestnut - Serenity & clarity
Size: NET 50g carton
Your Moment of Calm, Sleep & Focus
Size: 50g
Alcohol Free?: Yes
Warnings
Excess consumption may have a laxative effect. Contains a source of phenylalanine.
Ingredients
Ingredients: Sorbitol and maltitol syrup (46%), gelling agent: gum arabic (42%), acid: citric acid (2.5%), flavours (0.7%), humectant: glycerine (0.7%), L-ascorbic acid (vitamin C) (0.6%), sweeteners: acelfame K and aspartame (0.2%), colour: anthocyanins (0.1%), raspberry juice concentrate (0.1%), coconut and rapeseed oil (0.1%), glazing agent: beeswax (0.1%), menthol (0.01%), Rest&Quiet Calm Remedy Formula (Aspen, Cherry Plum, Clematis, Impatiens, Mimulus, Rock Rose, Star of Bethlehem, White Chestnut)
Directions
Chew one pastille as required. Repeat as necessary.