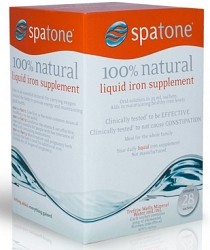 Spatone Liquid Iron 28 Sachets
Spatone Liquid Iron Supplement Sachets
Prevent iron insufficiency effectively without constipation. Clinically proven to not cause constipation, stomach irritation or nausea.
Why should I take an iron supplement?
Low iron is one of the most common mineral deficiencies affecting women in their lifetime.
If an iron deficiency is left untreated, it can lead to anemia.
Symptoms of iron deficiency are similar to those of anemia and can be difficult to recognise:
Feeling fatigued
Brain drain and poor concentration
Increased infections
Decreased endurance and poor tolerance to exercise
Dry, brittle hair and nails
Most at risk of iron deficiency:
Pregnant women
Menstruating women
Vegetarians
Teenagers
The elderly
Are all iron supplements the same?
Definitely not. Traditional iron supplements like ferrous sulphate have low rates of absorption so you need to take high doses to restore your iron levels to normal.
Spatone delivers a much more absorbable form of iron, so you can take lower, safer starting dose yet still effectively prevent iron insufficiency.
Why doesn't Spatone cause constipation like other iron supplements?
The answer is simple.
Because Spatone is easily absorbed into the body, you only need to take small amounts to get your recommended daily intake of iron.
Spatone leaves very little unabsorbed iron in the bowel for excretion and therefore minimizes common side effects like constipation, stomach irritation and nausea. Spatone has been clinically proven to be effective without these harmful side effects.
Convenient liquid sachets, direct from the spring in Snowdonia, Wales, UK. No chemicals or manufactured products are added.
Liquid Spatone does not have to be dissolved in the stomach and is quickly absorbed.
Why should I consider Spatone if I am pregnant?
35% of pregnant women are iron deficient in their first trimester and up to 85% in their third trimester
Postnatal women often continue to experience reduced iron levels and fatigue caused by blood loss during birth and milk production.
Spatone has been clinically proven in pregnancy to help prevent iron insufficiency without the side effects associated with high dose iron supplements

Active Ingredients:One sachet of Spatone typically contains 5mg of elemental iron. Spatone is a 100% natural spa water with a high content of elemental iron. It therefore has no added ingredients such asgluten
lactose
preservatives
artificial colours
artificial fragrances
sweetener
sugar 
Dosage:Recommended dosage of Spatone is one to two sachets per day.
How do I take Spatone?
Spatone is ideally taken in the morning on an empty stomach diluted in orange juice. Please allow at least 30min or better one hour before having coffee or tea, or eating breakfast.
You can also take Spatone between meals or as the last thing at night before going to sleep.
If pregnant or breastfeeding please consult your doctor or health care professional before taking any food supplements or medicines

Warnings:Who shouldn't take Spatone?
People who know they have genetic haemochromatosis* or carry the haemochromatosis gene should not take iron supplements including Spatone.
Haemochromatosis is an inherited condition in which the accumulation of iron in the body can eventually lead to tissue damage resulting in cirrhosis of the liver and diabetes. It is a treatable condition and genetic testing is available.
If you have any concerns, please talk to your health care professional before taking any food supplements or medicines.