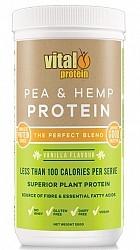 Vital Protein Pea & Hemp 500g
Vital Pea & Hemp Protein Powder 500g

WHAT IS HEMP PROTEIN POWDER AND WHY SHOULD I TAKE IT?
  Hemp protein powder is derived from hemp seeds which are crushed, producing cold pressed hemp seed oil and seed cake. The seed cake is then milled down to make the hemp protein powder. Hemp protein powder has a complete amino acid profile, is rich in fibre, essential fatty acids and omegas 3, 6 & 9. Our hemp protein powder was grown in Canada and is of the highest quality, containing 65% protein concentrate.  
WHY THE 70% PEA PROTEIN & 30% HEMP PROTEIN POWDER BLEND?
  A blend combining Pea Protein and Hemp Protein powder, with their complementary amino acid profiles, creates a superior complete vegetable protein, with the optimal amount of fibre. Together, the blend contains over 74% protein. The blend has all the benefits of the pea protein with added fibre, essential fatty acids, GLA, Vitamin E. It is easily digestible, has a smooth texture and with the Vanilla flavour from the Vital Protein has a great taste.  
WHY WOULD I BENEFIT FROM TAKING THE BLEND?
  The blend is suitable for almost everyone as it is natural, both dairy and gluten free, and vegan friendly. It supports increased energy, is easily digestible and is fantastic source of protein! It can be taken any time during the day and can be used to support weight management* and muscle recovery. With a complete amino acid profile, the blend is so nutritious, it is the perfect snack replacement.  
Active Ingredients: 70% Vital Pea Protein   (Pure Pea Protein Isolate, Natural Vanilla Flavour, Thaumatin & Monk Fruit);   30% Hemp Protein Powder.  
Dosage: Dissolve or mix 25g (approx 2 heaped tablespoons) into 200ml of water, milk (nondairy is suggested), yoghurt, or natural juice of your choice.