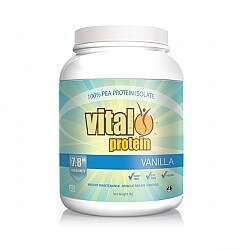 Vital Protein Vanilla 1kg
Vital Protein
is a high source of vegetable protein. It is extracted from golden peas and has the most potent and balanced amino acid profile of any plant based protein! 100% vegetable, 88% protein, 98% digestible.
Protein helps support weight management and the western diet is known to be lacking is high quality protein. Vital Protein is egg, soy, wheat, dairy and gluten free and is easily digested, so is ideal for every user.   
Features & Benefits:
Vital Protein assists muscle recovery after a workout 
Vital Protein is a 100% pure natural protein 
Dairy, lactose, gluten free 
Suitable for vegans and vegetarians 
Active Ingredients: 100% natural pea protein isolate Natural vanilla bean Natural sweetener (Thaumatin)   Per Serving (25g): Energy 394kJ Protein 20g FAT Total 1.4g  -Saturated 0.2g
Carbohydrates 4.8g
-Sugars 0.02g Sodium 325mg  
Country of Origin - Australia  
Dosage: Container Size: 1kg Serving Size: 1 Scoop (25 G) = 2 heaped tablespoons Servings Per container: 40   Mix or blend 2 heaped tablespoons (25g) in 200mls of water, milk of your choice.  
Warnings:
Always read the label and use only as directed.