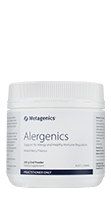 Alergenics 202g powder
Support for Allergy and Healthy Immune Regulation
Size: 202 g Free from: Gluten, Lactose, Dairy, Soy and Nuts and Seeds. Vegan.
The ingredients in Alergenics have been shown to or may:
Help to support healthy immune regulationi and function.ii
Supports gastrointestinal immune functioniii and natural liver detoxification processes.iv
The Metagenics Allergy and Reactivity Reduction Program may increase tolerance to allergens.