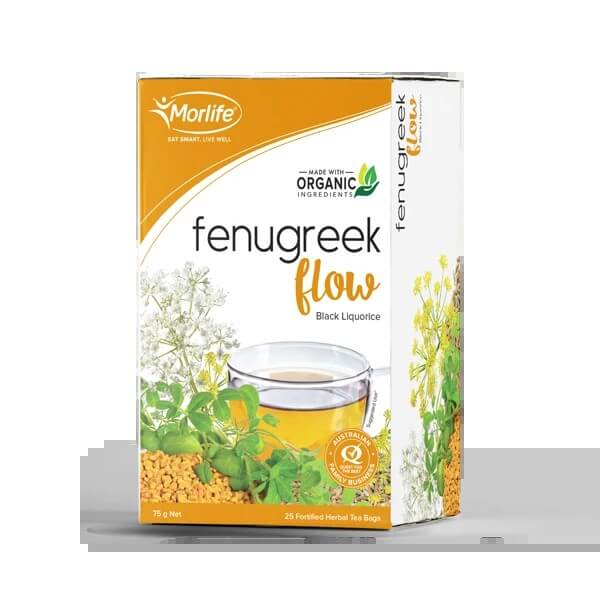 Fenugreek Flow 25 teabags
Morlife's Fenugreek Flow in black liquorice flavour consists of a unique blend of herbs including fenugreek, fennel seed and aniseed. Fenugreek has been traditionally used since the Ancient Greek, Egyptian and Roman Empires; it was particularly enjoyed by breastfeeding mothers.
Morlife's Fenugreek Flow has been naturopathically formulated to provide a nourishing tea to sit down, take a breather and relax.
Black liquorice
25 fortified herbal tea bags
Naturopathically formulated
Made with Organic ingredients
Tea bags made with unbleached paper
SUGGESTED USE
Infuse 1-2 teabags in very hot water (not boiling) for 2-10 min. Use up to two times daily. Best consumed without milk. Add honey to sweeten if desired. 
Consult your health professional or naturopath if pregnant, lactating, taking medications or suffering from a serious health condition before taking. Discontinue taking and seek professional advice if any adverse reaction occurs.
INGREDIENTS
Organic Fenugreek seed (72%*), Organic Fennel seed, Organic Aniseed (7%*), Aniseed Natural Flavour. *Average quantities
Manufactured in a facility that processes products containing soy, dairy, gluten and tree nuts.