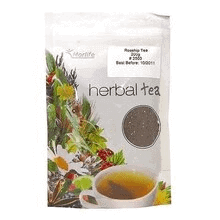 Rosehip Tea 200g
Rose hips are very nourishing to the skin. They contain a high amount of vitamin C. It is used as a blood purifier, and for treatment of infections, colds, and flu. The essential oil is used in aromatherapy to treat depression and stress. The oil is also used as carrier oil as a beauty aid in massage, bath, and facial products.
Ingredients:
Rosehip.
Suggested Use:
Add loose tea (1 to 2 teaspoons per cup, 250ml) to a teapot, or infuser basket. Pour very hot water (not boiling) over the tea and let it infuse for up to 3 to 5 minutes. Strain leaves from the teapot before pouring. Add honey or a slice of lemon to taste. Enjoy!
Cautions:
Seek professional health advice if pregnant, lactating, suffering from a medical condition or taking medication before supplementing.