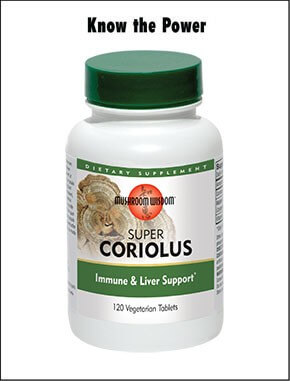 Super Coriolus 120 vege tabs

Coriolus mushroom has a long history of being used traditionally to nourish Jing and Qi and has now become one of the most researched mushroom supplements worldwide.

Super Coriolus uses a hot water extract providing you the concentrated and researched constituents.

Mushroom Wisdom, with over 25 years of mushroom expertise, is committed to offering you the finest and most effective supplements, manufacturing them in a certified cGMP facility.
Ingredients:
Coriolus (Coriolus versicolor) Fruiting Body Extract 900 mg
Vitamin C (Ascorbic acid) 80 mg (89% of Daily Value)

Amount per Daily Serving:
Serving Size: 4 tablets
Servings per Container: 30

Other Ingredients:
Dicalcium Phosphate, Microcrystalline Cellulose, Croscarmellose Sodium, Silicon Dioxide, Calcium Stearate, Hydroxypropyl Methylcellulose, Glycerin
Directions for Use:
Take 4 tablets once per day or 2 tablets twice per day.

CONTAINS NO gluten, wheat, soy, dairy, artificial colours, flavours or preservatives.