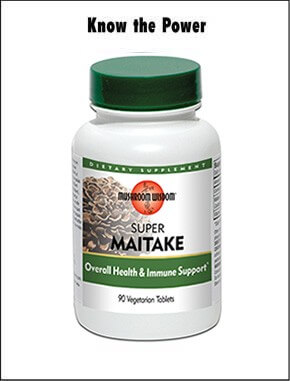 Super Maitake 90 vege tabs
Maitake (
Grifola frondosa
) is a mushroom that was so highly prized in medieval Japan that it was worth its weight in silver.
Super Maitake is made from the mushroom's whole fruiting body
Super Maitake delivers the adaptogenic support to overall health while helping to maintain healthy immune, liver, blood sugar and blood pressure.
Mushroom Wisdom is committed to offering you the finest and most effective supplements, manufacturing them in a certified cGMP facility.
Ingredients
Maitake (Grifola frondosa) Fruiting Body Powder 1,500 mg†
Vitamin C 60 mg (100% of Daily Value)

†Daily Value not established.

Amount per Daily Serving:
Serving Size: 3 tablets
Servings per Container: 30

Other Ingredients:
Dicalcium Phosphate, Microcrystalline Cellulose, Hydroxypropyl Cellulose, Croscarmellose Sodium, Calcium Stearate, Silicon Dioxide, Hydroxypropyl Methlycellulose, Glycerin
Directions for Use:
Take 3-4 tablets daily

Suitable for Vegetarians

CONTAINS NO gluten, wheat, soy, dairy, artificial colours, flavours or preservatives.