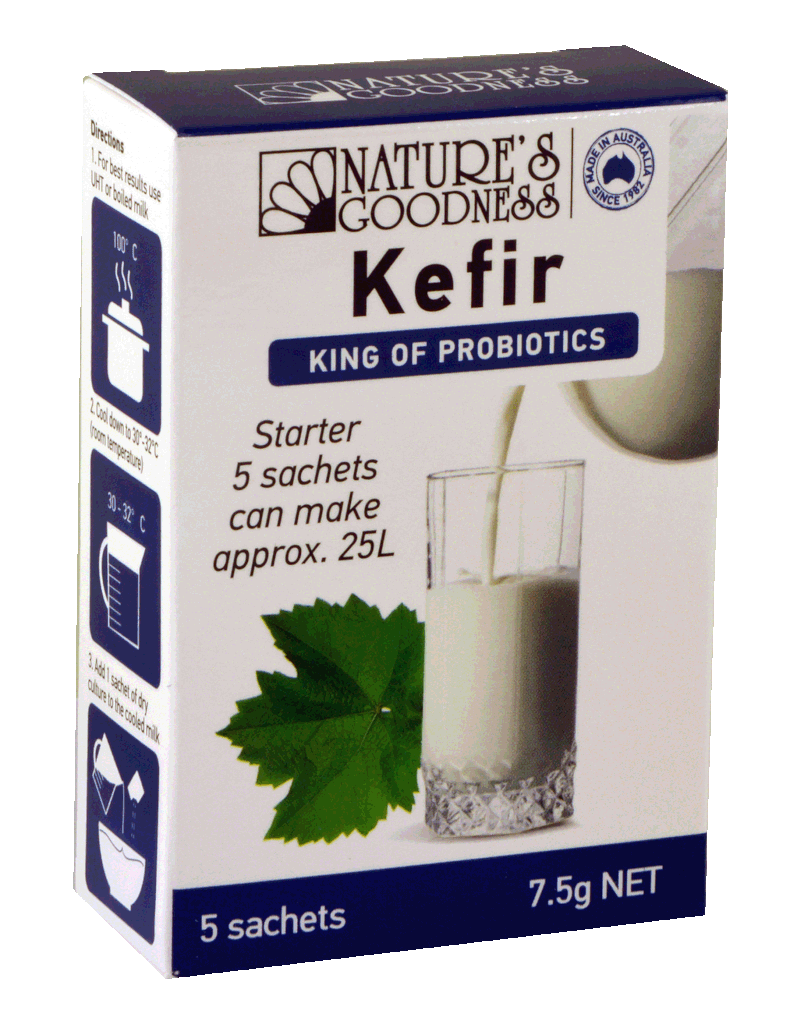 Kefir Sachets 7.5g
What is Kefir?
Kefir is a fermented milk drink that originated in the Caucasus Mountains of Far East Europe where it was used for centuries as a healthy drink and improved longevity.
Why is Kefir good for you?
Kefir is a source of beneficial bacteria and yeasts which help maintain a healthy digestive system. These include lactic acid bacteria like Lactobacillus, Lactococcus and Kefir yeasts.
Kefir has been found to help:
gastrointestinal problems

following antibiotic therapy
maintaining healthy intestinal flora
people with lactose intolerance
Directions:
For Best Results:
1. Boil 1L of UHT or full cream cows milk at 100C.
2. Allow to cool to 30-32C (room temperature)..
3. Add 1 sachet of dry Kefir culture to the cooled milk.
4. Mix well with an electric mixer.
5. Pour mixture into a container and leave for 24-36 hours at room temperature.
6. When consistency thickens, refrigerate for 24 hours before drinking.
To make 25 litres:
Collect 1 glass of Kefir - this can be used for a subsequent inoculation of another 1L of milk. Repeat up to another 4 times to make 5L Kefir in total.

Serving Suggestion: Serve Kefir with your favourite fruit, or add a pinch of salt to add zest to the flavour.
Ingredients: Lyophilised Kefir culture, maltodextrin.
Product Size: 5 sachet servings per box. 7.5g NET