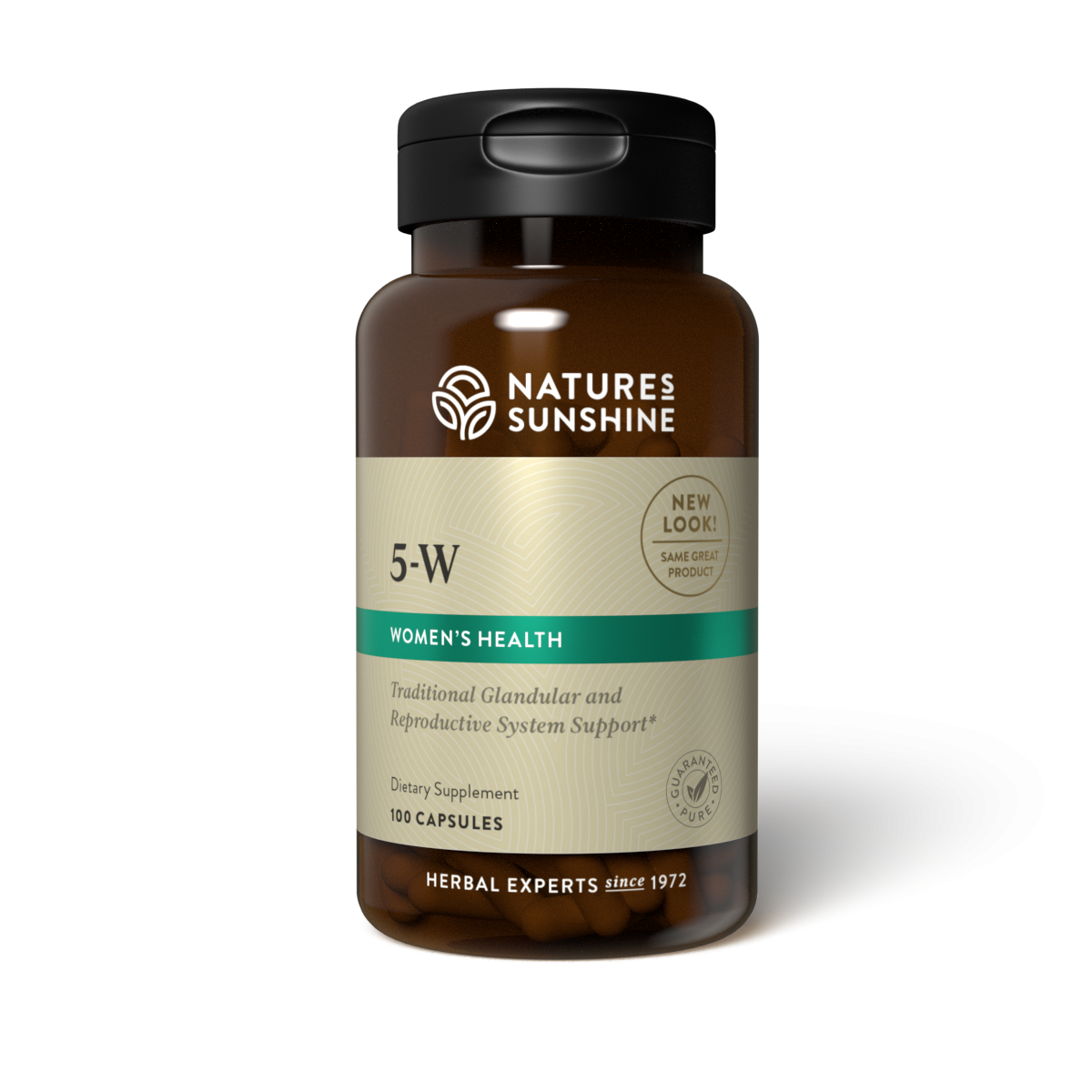 5-W 100 caps
Nature's Sunshine 5-W Capsules 100 - Pregnancy Support
Benefits:
5-W contains herbs which promote the overall toning of uterine tissues in preparation for childbirth and the calming of false contractions. 5-W may also relieve pain, relax uterine muscle spasm, and reduce the anxiety and irritability often associated with childbirth.
5-W is recommended especially during the last five weeks of pregnancy to facilitate easier delivery and quicker recovery, particularly in women with difficult or prolonged labour.
Usage:
Supports the female glandular and reproductive systems.
May help tone and strengthen the uterus.
Recommended for the last 5 weeks of pregnancy.
Dosage: Women: During the last five weeks of pregnancy, take two capsules with a meal three times daily with a meal

Per 2 capsules
Active Ingredients:
Proprietary blend 900 mg
Black Cohosh Root (Cimicifuga racemosa)
Squaw Vine Herb (Mitchella repens)
Dong Quai Root (Angelica sinensis)
Butcher's Broom Root (Ruscus aculeatus)
Red Raspberry Leaves (Rubus idaeus)

Warnings:
If a tendency toward heavy bleeding exists do not use this formula.
Avoid use in the first and second trimesters of pregnancy.
This product is not recommended for children

Extended Information: Black Cohosh - provides mild oestrogenic activity and may soothe irritation and congestion of the cervix, uterus and vagina. According to research findings, black cohosh may alleviate the pain and distress associated with pregnancy, and stimulates uterine contractions. Squaw Vine Herb- is regarded as a female fertility and pregnancy tonic herb, known for its specific actions affecting the uterus—stimulating circulation, relieving congestion, improving tone, and relaxing spasms. Dong Quai Root - traditionally used to ensure an easy delivery, providing smooth muscle-relaxing, sedative, and analgesic qualities Red Raspberry Leaves- have astringent properties which help tone and tighten blood vessels and tissues, especially in the uterus
If symptoms persist, come into the health shop, for a chat or phone and make an appointment and see me as a naturopath in my clinic to assist you with birth preparation.
Phone: 094264455