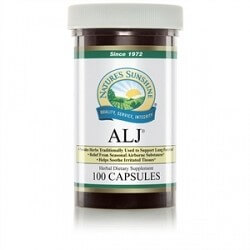 ALJ Capsules 100 caps
Nature's Sunshine ALJ Capsules 100
Benefits:
ALJ is an excellent respiratory formula for relieving sinus and upper respiratory congestion associated with allergies. ALJ contains herbs which stimulate perspiration and the production of mucosal fluids to remove allergens and other toxins.
ALJ also supports circulation, soothes inflamed tissues, enhances lymphatic function and acts as an antiseptic to help fight infection. Furthermore, ALJ supports digestion and may help manage allergies and respiratory problems resulting from poor digestion.
ALJ Liquid is in an alcohol-free vegetable glycerin base and is perfect to use for children.
Usage:
Helps soothe irritated tissues.
Encourages the entire respiratory tract to gently cleanse itself.
Assists the body in neutralising allergens by nutritional means.
Dosage: Adults: Take 2-4 capsules with a meal three times daily
Active Ingredients: Per 4 capsules
Proprietary blend 1760 mg
Boneset Aerial Parts (Eupatorium perfoliatum)
Fennel Seeds (Foeniculum vulgare)
Fenugreek Seeds (Trigonella foenum-graecum)
Horseradish Root Extract (Armoracia rusticana)
Mullein Leaves Extract (Verbascum thapsus)

Extended Information: Boneset- traditionally used as an expectorant. Supports healthy immune function due to the presence of sesquiterpene lactones and polysaccharides. Fennel seeds - often used as an expectorant and bronchodilator. Horseradish root- has antimicrobial properties and stimulates blood flow to respiratory mucosa. Mullein Leaves- acts as an expectorant to encourage elimination of respiratory tract mucus; as an antitussive to suppress coughing; and as a respiratory demulcent to soothe irritated tissues.