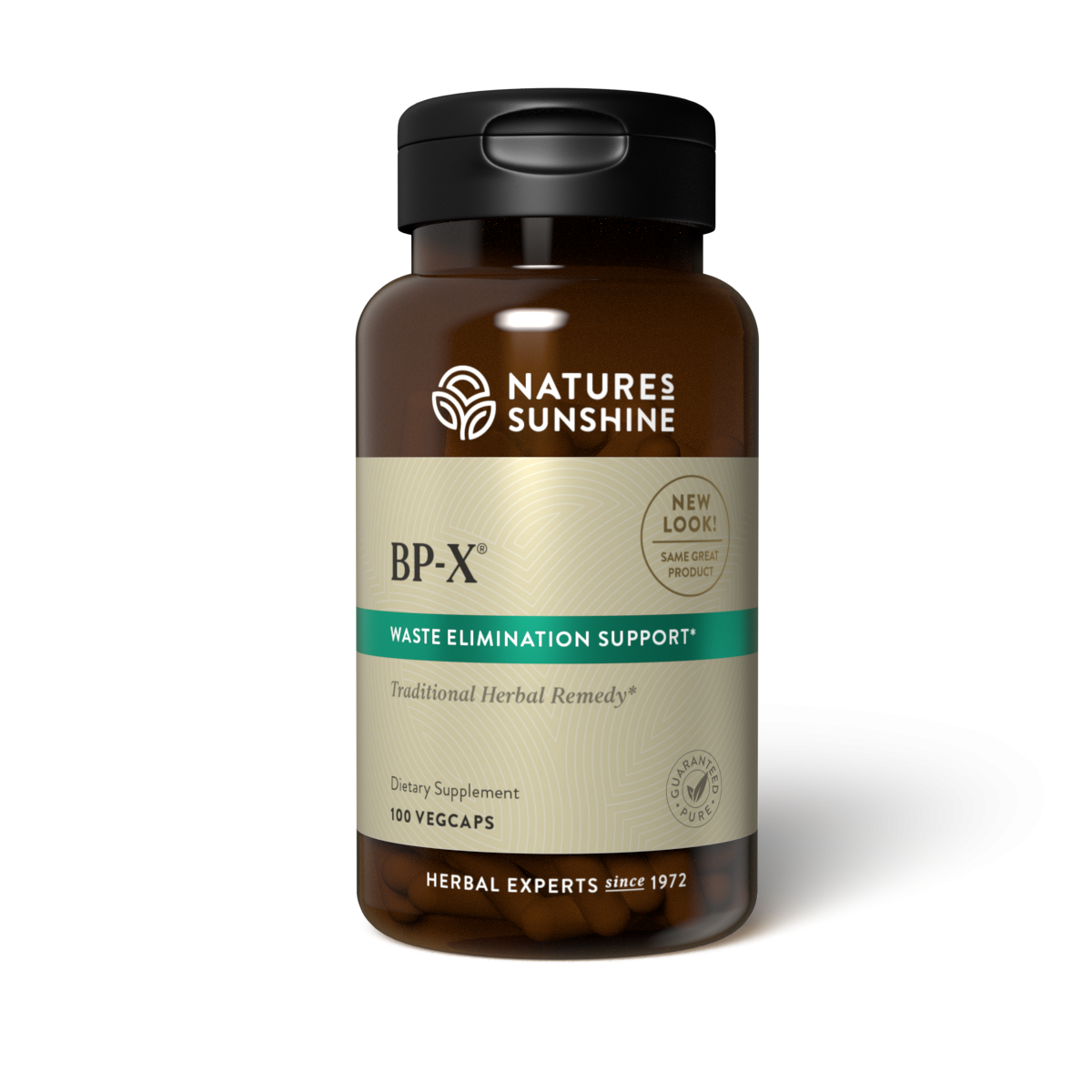 BP-X 100 caps
Nature's Sunshine BP-X Capsules 100
Benefits:
BP-X stands for "blood purity", meaning blood that is relatively free of the body's own waste products and environmental toxins.
Clean blood is needed to carry oxygen and nutrients to the trillions of cells that make up the body.
This popular herbal formulation benefits the detoxifying functions of the body, helping to support digestive and eliminative functions and may enhance the immune response.
Skin/ Acne
Usage:
Helps maintain healthy bowel function.
Improves digestion.
Assists normal liver and gallbladder function.
Strengthens the lymphatic system.
Aids (indirectly) skin conditions.
Dosage: Adults: Take 2 capsules with a meal twice daily
Active Ingredients: Per 2 capsules
Proprietary Blend 890 mg
Burdock Root (Arctium lappa)
Pau D'Arco Bark (Tabebuia heptaphylla)
Red Clover Flowers (Trifolim pratense)
Yellow Dock Root (Rumex crispus)
Sarsaparilla Root (Smilax officinalis)
Dandelion Root (Taraxacum offinale)
Cascara Sagrada Bark (Rhamnus purshiana)
Buckthorn Bark (Rhamnus frangula)
Yarrow Flowers (Achillea millefolium)
Oregon Grape Root (Berberis aquifolium)
Prickly Ash Bark (Zanthoxylum clava- herculis)

Warnings:
This product contains cascara sagrada and buckthorn.
See your health care provider prior to use if: pregnant or nursing, any medical condition exists, or when taking any medication.
Read and follow recommendation carefully.
Do not use if diarrhea, loose stools or abdominal pain are present or develop.
Use of this product may worsen these conditions and be harmful to your health.


Extended Information: Buckthorn - increases bile flow, peristalsis, and mucus secretion in the intestines to cleanse toxins from the body. Burdock - stimulates elimination of wastes via the colon, kidneys, and skin. Cascara - has been shown to stimulate bile production. Dandelion - may help the liver and gallbladder filter out toxins and purify the blood, as well as stimulate the kidneys to eliminate toxins through the urine. Oregon Grape - may enhance glandular function, especially of the liver and thyroid. Pau d'Arco - purifies the blood. Peach bark -shrinks inflamed tissues, relaxes muscle spasms, and acts as an antiseptic, diuretic, and laxative. Prickly ash - alleviates pain and inflammation, stimulates blood flow, Red clover - helps the body manufacture bile and other digestive fluids and enzymes, and is a strong blood purifier. Sarsaparilla - is primarily a blood purifier, focusing most of its action in the colon. Yarrow - shrinks inflamed tissues. Yellow dock - has become favoured as a tonic for the liver and gallbladder, due to its astringent purification of the blood supply to the glands.