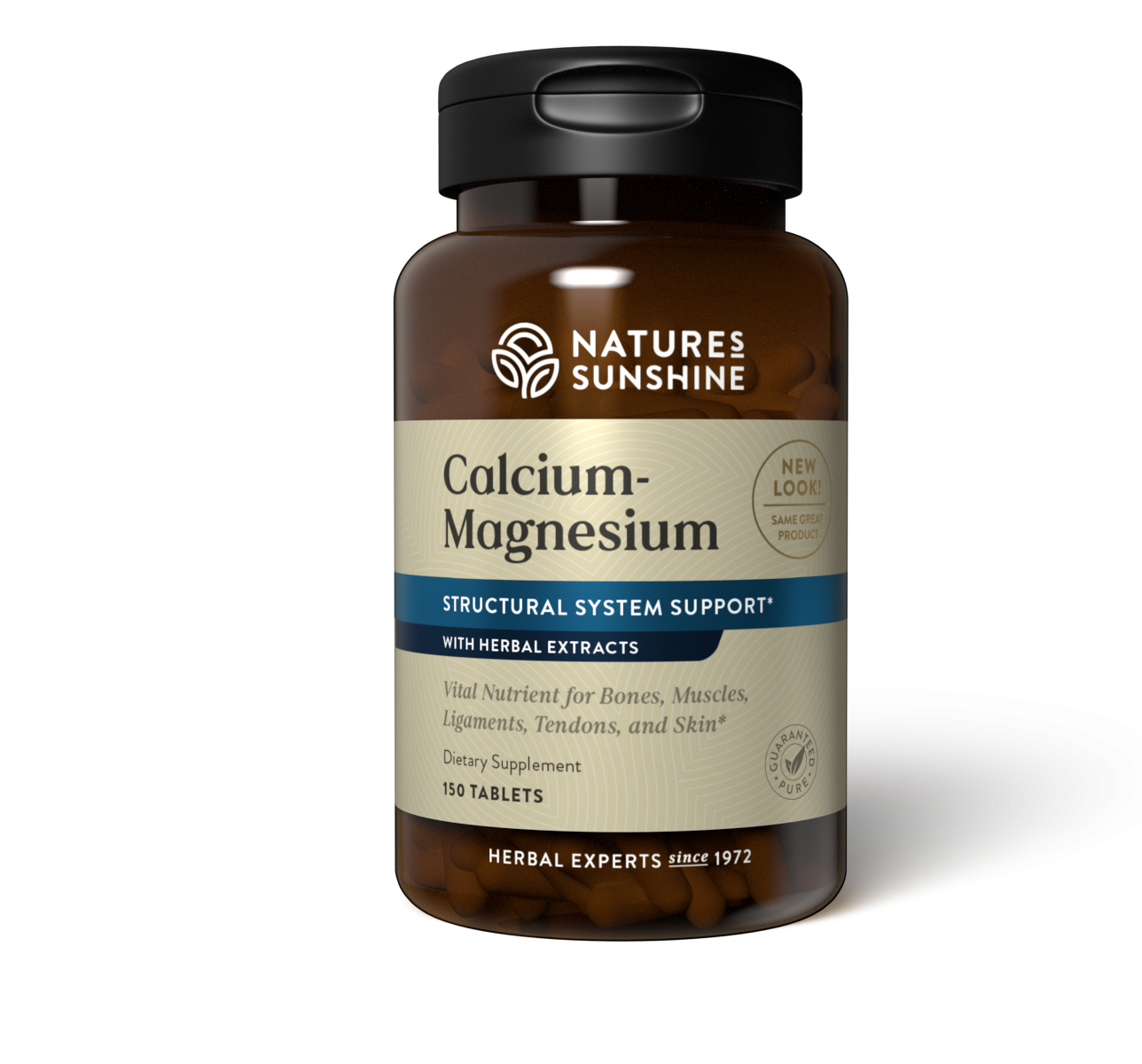 Calcium-Magnesium 150 tabs
Nature's Sunshine Calcium-Magnesium Tablets 150
Benefits:
Nature's Sunshine SynerPro® Calcium-Magnesium combination recognises that each of these minerals and cofactors depends on the other for proper assimilation in the body. This product provides nutrients that support and maintain the structural system, support the maintenance of a balanced pH and benefit the circulatory system.
Usage:
pH balancing.
Nutrients for proper structural system function.
Vital for bones, muscles, ligaments, tendons, and skin.
Active Ingredients: Per 2 tablets Vitamin D 100 IU
Calcium (amino acid chelate, di-calcium phosphate) 400 mg
Phosphorus (di-calcium phosphate) 250 mg
Magnesium (oxide) 200 mg
Zinc (oxide) 7.5 mg
Copper (gluconate) 1 mg
Boron (amino acid chelate) 0.5 mg Proprietary blend 100 mg Broccoli Flower (Brassica oleracea)
Carrot Root (Daucus carota)
Red Beet Root (Beta vulgaris)
Rosemary Leaf (Rosmarinus officinalis)
Tomato Fruit (Solanum lycopersicum)
Turmeric Root (Curcuma longa)
Cabbage Leaf (Brassica oleracea)
Chinese Cabbage Leaf (Brassica rapa)
Grapefruit Bioflavonoid,Orange Bioflavonoid, Hesperidin (Bioflavonoid),

Dosage: Adults: Take 2 tablets with a meal twice daily

Extended Information: Calcium - is the most important macro mineral in the body, being found in higher concentrations than any other nutrient. It is not only important for bones and other structures; it is also used in muscular contractions, nerves, and other tissues. It also requires other trace minerals and vitamins for proper utilisation. Magnesium transports calcium into the cells and is necessary for calcium to function properly. Magnesium also works closely with calcium to regulate blood pressure, muscle activity and the blood clotting process. With the added benefit of SynerPro® an exclusive combination of Broccoli, Cabbage Leaf, Carrot Root, Red Beetroot, Rosemary, Tomato and Turmeric providing extra antioxidant support.