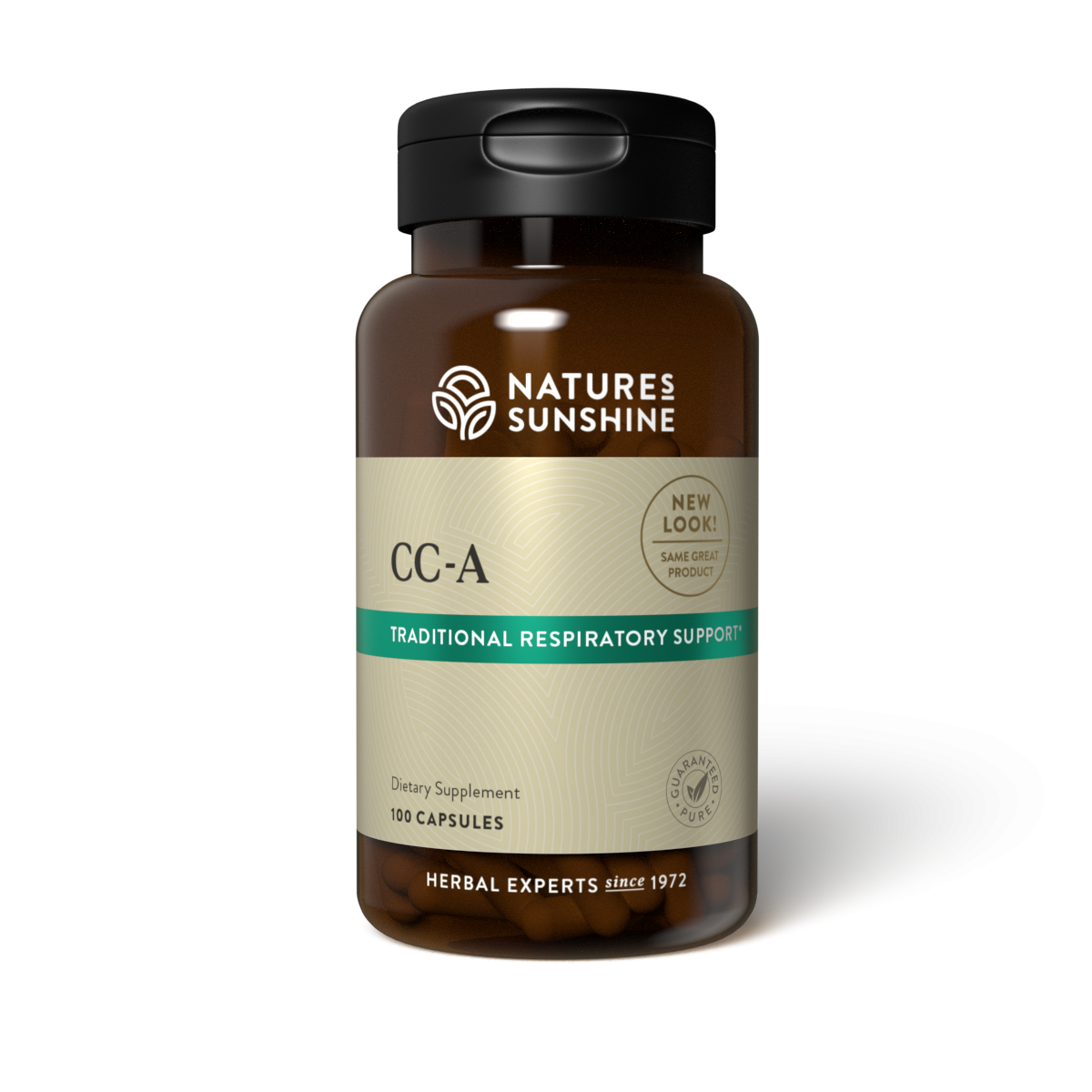 CC-A
Nature's Sunshine CC-A Capsules 100
Benefits:
CC-A is a herbal combination for use with the common cold, particularly when it is accompanied by chills, fever, headaches, muscle aches, and nausea.
CC-A is comprised of herbs which may help break up congestion and expel mucus, stimulate the production of digestive fluids, enhance circulation to promote healing, induce perspiration, relax muscle spasms, and stimulate the immune system to fight infection.
Usage:
Supports the circulatory and immune systems.
Provides respiratory system support.
Dosage: Adults: Take 2 capsules with a meal twice daily. Children: Take 1 capsule with a meal twice daily

Active Ingredients: Per 2 capsules
Proprietary blend 800 mg
Rose Hips (Rosa canina)
Chamomile Flowers (Matricaria recutita)
Slippery Elm Bark (Ulmus fulva)
Yarrow Flowers (Achillea millefolium)
Capsicum Fruit (Capsicum annuum)
Golden Seal Root and Rhizome (Hydrastis canadensis)
Myrrh Gum (Commiphora molmol)
Peppermint Leaves (Mentha piperita)
Sage Leaves (Salvia officinalis)
Lemon Grass Herbs (Cymbopogon citratus)

Extended Information: Capsicum - provides circulatory system support. Golden Seal and Sage - may help boost immunity. Yarrow - provides respiratory system support. Rose hips - are a natural source of vitamin C and are traditionally used to support the immune system. Myrrh gum - contains important volatile oils that possess beneficial properties.