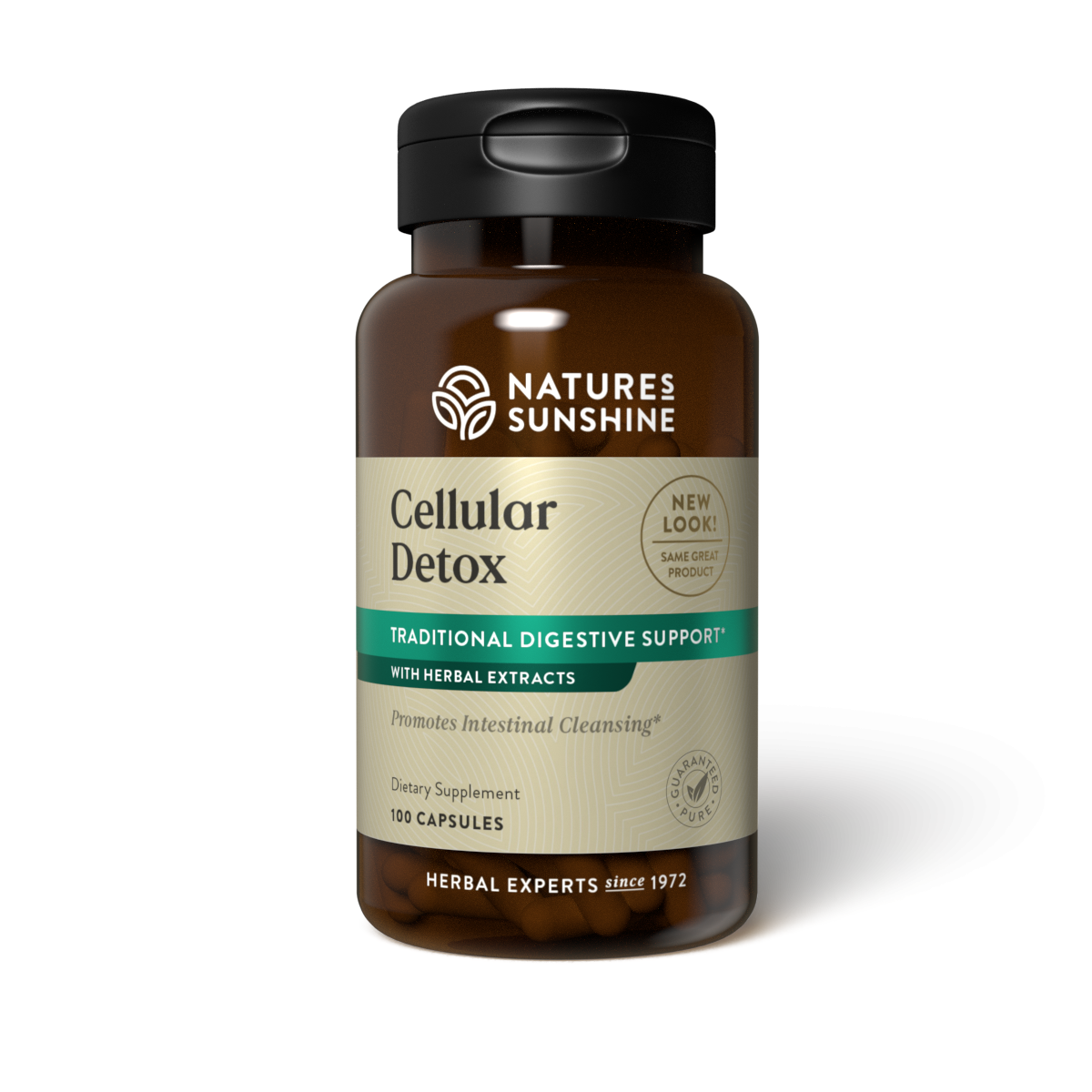 Cellular Detox 100 caps
Nature's Sunshine Cellular Detox Capsules 100
Benefits:
Cleansing and detoxification of the body promote good health and general well-being.
Herbs and nutritional supplements can be used to nourish and cleanse the body, especially the body systems that are heavily involved with metabolic processes.
The digestive system feeds the entire body and must flow freely to ensure the efficient elimination of toxins from the body.
The colon, in particular, must function properly to promote the elimination of waste materials from the body.
The liver and kidneys are also important detoxifying organs. The liver aids in the digestive process by secreting bile that emulsifies fat, hence facilitating the actions of digestive enzymes and juices.
The liver also controls the metabolism of various nutrients and serves as a reservoir for many of these nutrients. The kidneys act as a filtration system during the production of urine.
Usage:
Supports and cleanses the colon, liver and kidneys.

Aids digestion.

Promotes the absorption of nutrients.
Dosage: Adults: 2 capsules with a meal three times daily.
Active Ingredients: Per 2 capsules
Proprietary blend 832 mg
Gentian Root (Gentiana lutea)
Irish Moss Plant (Chondrus crispus)
Cascara Sagrada Bark (Rhamnus purshiana)
Fenugreek Seeds (Trigonella foenum graecum)
Slippery Elm Bark (Ulmus rubra)
Safflower Flowers (Carthamus tinctorius)
Black Walnut Hulls (Juglans nigra)
Myrrh Gum (Commiphora molmol)
Yellow Dock Root (Rumex crispus)
Dandelion Root (Taraxacum officinale)
Oregon Grape Root & Rhizome (Berberis aquifolium)
Catnip Leaves (Nepeta cataria)
Cyani Flowers (Centaurea cyanus)
Chickweed Leaf Extract (Stellaria media)
Parthenium Root (Parthenium integrifolium)
Uva Ursi Leaf Extract (Arctostaphylos uva ursi)
Golden Seal Root Extract (Hydrastis canadensis)
.
Warnings:
This product contains cascara sagrada. See your health care provider prior to use if: Pregnant or nursing, any medical condition exists, or when taking any medication. Read and follow recommendation carefully.
Do not use if diarrhoea, loose stools, or abdominal pain are present or develop.
Use of this product may worsen these conditions and be harmful to your health.
Chronic diarrhoea can result in serious illness.

Extended Information: Black walnut contains tannins which are astringent which may help tone and heal inflamed or damaged tissues.
Cascara Sagrada is widely known for its laxative effects.
Catnip exhibits a soothing, sedative effect on the digestive system.
Chickweed provides ample amounts of viscous fiber and stimulates digestion due to the presence of triterpenoid saponins.
Cyani flower contains sesquiterpene lactones, including cnicin, which has been shown to exhibit a mild antibiotic effect.
Dandelion has been shown to help the liver and gallbladder filter out toxins and purify the blood, as well as stimulate the kidneys to eliminate toxins through the urine.
Fenugreek increases the production of mucosal fluids to help remove allergens and toxins from the respiratory tract.
Gentian may be the most bitter substance known to man, due primarily to the presence of amarogentin.
Studies show golden seal acts as an astringent, producing a vasoconstricting tightening of the blood vessels effect.
Irish moss is rich in iodine, and is commonly used for thyroid problems, including goiter and obesity.
Parthenium, a close relative of echinacea, mimicks the medicinal qualities of echinacea in many ways.
Safflowers stimulate the production and release of bile.
Slippery elm has been found to be an effective remedy for irritation of the mucus membranes, stomach, intestines, and urinary tubules.
Uva ursi is an herb which focuses its many actions on the urinary system.
Yellow dock is rich in ascorbic acid (vitamin C), vitamin A and iron, and is often used to improve iron levels in pregnant women and those suffering anemia.