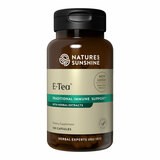 E- tea
Nature's Sunshine E-Tea provides all of the herbal essence of the original Traditional Native American Essiac Tea formula that gained popularity in the mid-1900s. It is traditionally used to support immunity, soothe the digestive tract and help detoxify and purify the blood. Traditional preparation of Essiac Tea requires a 10 hour brewing and steeping process. Sediment is then strained from the liquid, which must then be refrigerated to prevent mould growth.
Nature's Sunshine E-Tea is an easy-to-use, encapsulated form of traditional Essiac Tea providing all the herbal essence of the original Traditional Native American formula saving hours of preparation without the need for refrigeration.
Used traditionally to soothe the digestive tract
Supports natural cleansing of blood & body systems
Demonstrates protective activities against free radicals
Supports immunity
Each 2 Capsules Contain: Proprietary blend 258 mg Burdock Root (Arctium lappa)Sheep Sorrel Herb (Rumex acetosella)Slippery Elm Bark (Ulmus rubra)Turkey Rhubarb Root (Rheum officinale)
Directions
Take 2 capsules three times daily on an empty stomach. Two capsules equals to a 62.5ml serving of traditionally brewed tea. If you prefer to make a tea: Add the contents of 2 capsules to 125ml (half cup) hot water.

Precautions
Pregnant or breastfeeding women should consult their health care professional prior to taking this supplement.
This product is not intended for prolonged use without professional supervision.
As always, if taking medication please consult your health care professional for individual concerns.
Always read the label.
Use only as directed.
If symptoms persist consult your healthcare professional