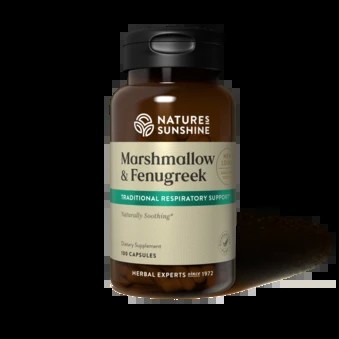 Marshmallow and Fenugreek Caps 100
Marshmallow and Fenugreek is a herbal supplement formulated to support the respiratory and digestive systems.
Marshmallow and Fenugreek increases the production of mucosal fluids to soothe tissues and may stimulate expectoration of excess phlegm providing support for colds and flu.
Marshmallow and Fenugreek also helps cleanse the body of toxins and support healthy digestion.
Indications for use:
Supports the respiratory system
Soothes mucous membranes
Ingredients:
Per 2 capsules
Proprietary Blend 1000mg
Fenugreek Seed (Trigonella foenum-graecum), Marshmallow Root (Althaea officinalis), Slippery Elm Bark (Ulmus rubra)
Other ingredients: Capsule (gelatin, water)
Recommended Dose:
Take 2 capsules with a meal twice daily.