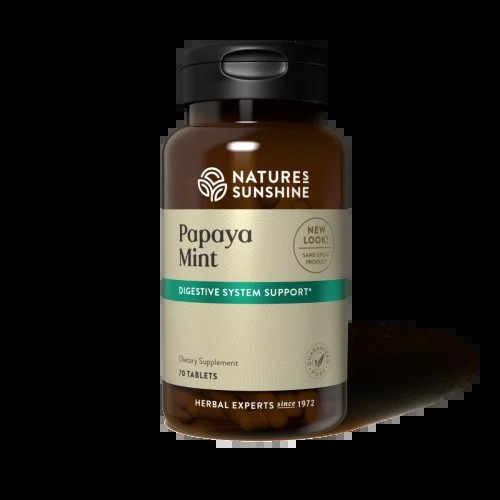 Papaya Mint Chewables 70 tabs
Papaya Mints are a proprietary blend of papaya fruit, peppermint leaf and peppermint oil making it an ideal combination to nutritionally support the digestive system.
This digestive aid is ideal after consuming rich foods and can be used as a delicious breath freshener.
Papaya is the only known food to contain papain, a powerful digestive enzyme that helps break down proteins, carbohydrates and fats. Papaya also has an ability to support healthy appetite and smooth digestive function and comfort.
Peppermint oil has been used historically as a culinary herb to support the digestive functions of the body.
Indications for use:
Helps smooth digestion
Supports intestinal comfort
Minty fresh breath
Ingredients:
Per 2 tablets
Proprietary Blend 715mg
Papaya Fruit (Carica papaya), Peppermint Leaf (Mentha x piperita), Peppermint Aerial Parts (Mentha x piperita)
Other ingredients: Sorbitol, fructose, stearic acid, silicon dioxide
Recommended Dose:
Chew 2 tablets with a meal three times daily, or use between meals as a breath freshener
Cautions:
Consult your healthcare practitioner prior to use if pregnant.