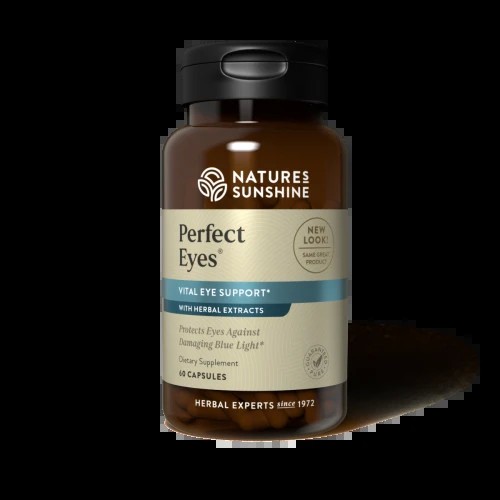 Perfect Eyes 60 Caps
Perfect Eyes includes Vitamin A (beta-carotene), Vitamin C, zinc, selenium, copper, lutein and zeaxanthin ingredients inspired by the AREDS study (age-related eye disease study) that supports eye health and maintains healthy vision.
Our eyes are constantly exposed to sunlight and artificial lighting, which can generate free radicals that have harmful effects on ocular cells. After middle age, our natural antioxidant production decreases, and the pigments in our eyes change.
Lutein, zeaxanthin and mesozeaxanthin are three key ingredients in this formula that may reduce the risk of light-induced oxidative damage that could lead to age-related macular degeneration. These three nutrients benefit eye health by blocking blue light from reaching the underlying structures in the retina.
Indications for use:
Support for healthy eyes and vision
Provides antioxidant protection
Supports the health of the macular region of the eye
Filters blue light
Ingredients:
Per 2 capsules
Vitamin A (beta-carotene) 360mcg
Vitamin C (ascorbic acid) 440mg
Zinc (gluconate) 15mg
Selenium (amino acid chelate) 40mcg
Lutein (marigold flower extract) 18mg
Copper (gluconate) 1.7mg
Zeaxanthin 3.6mg
Proprietary blend 234mg
Apple fruit extract (Malius pumila), Carotenoid Blend (Alpha-Carotene, Lycopene, Cryptoxanthin), Turmeric Root Extract (Curcuma longa), Green Tea Leaf Extract (Camellia sinensis), Bilberry Fruit Extract (Vaccinium myrtillus), N-Acetyl Cysteine, Taurine, Quercetin, Grape Seed Extract (Vitis vinifera), Olive Leaf Extract (Olea europaea), Sodium Copper Chlorophyllin
Other ingredients: Capsule (gelatin, water), cellulose, magnesium stearate, stearic acid, silicon dioxide
Recommended Dose:
Take 2 capsules daily with a meal.