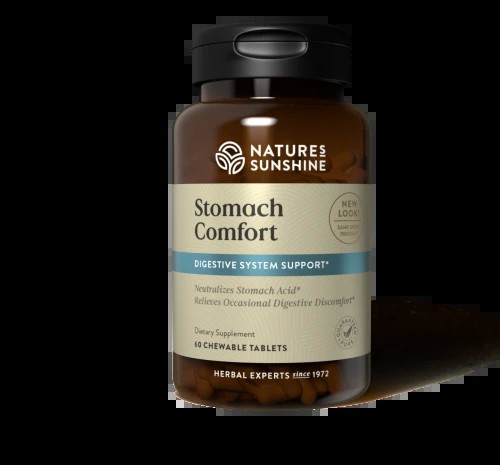 Stomach Comfort Tabs 60 Chewable
Stomach Comfort provides natural ingredients to help nutritionally support smooth, comfortable digestion.
This formula contains calcium carbonate which helps buffer acidity. Alginic acid , which converts to sodium alginate , helps to maintain the mucous lining of the oesophagus.
Slippery Elm bark coats and soothes the digestive tract while ginger root, papaya fruit and licorice root work together to aid digestion.
Indications for use:
Helps support the digestive system
Helps to neutralise acid
Soothes the stomach
Ingredients:
Per 2 tablets
Calcium (calcium carbonate) 550mg
Proprietary Blend 682mg
Isomato-oligosaccharides, Alginic Acid from Brown Seaweed (Phaeophyceae), Papaya Fruit (Carica papaya), Guar Gum (Cyamopsis tetragonolobus), Slippery Elm Inner Bark (Ulmus fulva), Ginger Rhizome (Zingiber officinale), Licorice Root Extract (Glycyrrhiza glabra)
Other ingredients: Xylitol, fructose, vegetable stearic acid, vegetable magnesium stearate, natural wintergreen flavour
Recommended Dose:
Chew 2 tablets up to three times daily
Caution - This product contains calcium carbonate known to interact with some medications. Consult your healthcare professional before taking.