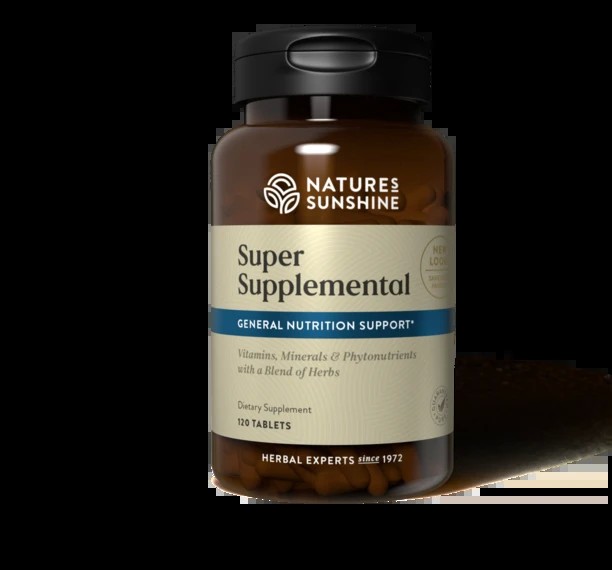 Super Supplemental 120 tabs
Description:
Super Supplemental contains important vitamins and minerals in a base of herbs, fruit and vegetable powders and phytonutrients.
Balanced nutrients are often in short supply during periods of physical stress or convalescence, or in a diet consisting of mostly processed foods. Super Supplemental can help support levels of valuable nutrition required to keep you in tip top shape.
Indications for use:
Provides 100% or more of the daily value for 11 essential vitamins and significant amounts of 10 important minerals
Provides antioxidants, phytonutrients and amino acids
Features a proprietary chlorophyll coating.
Recommended Dose:
Take 4 tablets daily with a meal
These may be taken one at a time with meals and at bedtime.
Cautions: This bottle contains enough iron to harm a child. Close lid tightly and keep out of the reach of children. In case of accidental overdose, call for emergency medical assistance.
Ingredients:
Per 4 tablets
Vitamin A (71% as beta-carotene, palmitate) 3280mcg, Vitamin C (ascorbic acid) 500mg, Vitamin D3 (cholecalciferol) 15mcg, Vitamin E (d-alpha tocopherol acetate) 72mg, Vitamin B1 (thiamine mononitrate) 25mg, Riboflavin (vitamin B2)20mg, Niacin (niacinamide) 60mg, Vitamin B6 (pyridoxine HCl) 30mg, Folic Acid 200mcg, Vitamin B12 (cyanocobalamin) 100mcg, Biotin 300mcg, Pantothenic Acid (d-calcium pantothenate) 150mg, Choline (bitartrate) 16mg, Calcium (di-calcium phosphate, calcium citrate, amino acid chelate) 400mg, Iron (ferrous fumarate) 28mg, Phosphorus (di-calcium phosphate) 220mg, Iodine (potassium iodide) 200mcg, Magnesium (oxide, amino acid chelate) 400mg, Zinc (gluconate) 30mg, Selenium (amino acid chelate) 100mcg, Copper (gluconate) 2mg, Manganese (amino acid chelate) 3mg, Chromium (amino acid chelate) 100mcg, Potassium (citrate) 100mg
Herbal and Protector Shield Proprietary Blend 288mg
Inositol, p-Aminobenzoic Acid (PABA), Antioxidant fruit blend (white grape, apple, pear, orange, pineapple, cherry, strawberry, blueberry), dandelion root, alfalfa aerial parts, asparagus stem, broccoli flowers, cabbage leaves, hesperidin bioflavonoid extract, lemon bioflavonoid extract, rutin,rose hips extract , sodium copper chlorophyllin, kelp leaf and stem, lutein, cranberry fruit, mangosteen fruit, carrot root, spinach leaf and stem, tomato fruit, lycopene, acai berry, pomegranate fruit extract, l-leucine, l-lysine, l-valine, l-isoleucine, l-phenyalanine, l-threonine, l-arginine, l-methionine, l-tyrosine, l-cysteine
Other ingredients: Cellulose, vegetable stearic acid, vegetable magnesium stearate, silicon dioxide