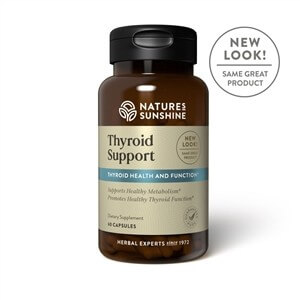 Thyroid Support 60 caps
Nature's Sunshine Thyroid Support is formulated to help nourish the thyroid gland and support healthy thyroid function. Thyroid Support contains essential nutrients required for the manufacturing of thyroid hormones, including vitamins, minerals and amino acids. It also provides herbs, enzymes and bovine glandular extracts to ensure optimal intake, absorption and utilisation of key nutrients that may support healthy thyroid hormone regulation and function.
The thyroid hormones regulate many body functions, including oxygen use, basal metabolic rate, cellular metabolism, growth and development, and body temperature.
Per Capsule:
Vitamin B6 (as pyridoxal-5-phosphate) 5 mgZinc (zinc citrate) 15 mgCopper (copper gluconate) 1 mgManganese (amino acid chelate) 5 mgProprietary Blend 210 mgl-Tyrosine, Kelp Leaf and Stem, (Ascophyllum nododumand Laminaria digitata)Thyroid substanceNettle Leaf (Urtica dioica), Protease BlendPituitary SubstanceHypothalamus Substance
Directions
Take: 1 capsule with a meal twice daily.
Precautions
Not recommended for long term use or when taking any medication without professional supervision
Those with hyperthyroidism should consult their health care professional prior to use
As always, if taking medication please consult your health care professional for individual concerns
Always read the label
Use only as directed
If symptoms persist consult your healthcare professional