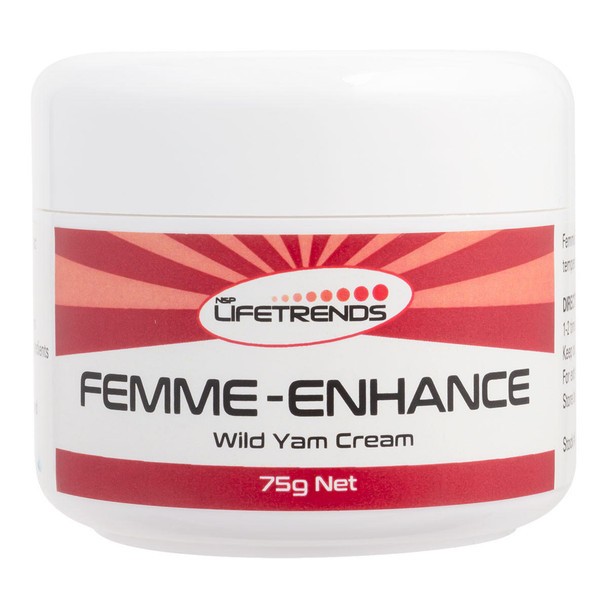 Wild Yam Cream Femme Enhance 75g
Lifetrends Femme-Enhance Cream is designed specifically to help nourish and support the female glandular system. The key herb in this cream, Wild Yam (Dioscorea villosa) works to help support ideal hormone levels, glandular and reproductive health. It is commonly used to help support menopausal women, with hormonal balance, temperature swings and mood balance. Wild yam has numerous traditional uses among many different peoples around the globe, however it is better known for helping support women during their menstrual cycle. Femme-Enhance is guaranteed to be 100% free of synthetic progesterone or other disturbing hormones and harmful chemical additives and fillers. Women in modern society exposed to environmental toxins, chemicals, denaturalised and devitalised food are, from the early age of thirty, subject to a reduction of progesterone production and a condition known as Estrogen Dominance.


Directions: (massage) to the body 2.5g (½ metric teaspoon) to the body twice daily, or as directed by your health care professional. For an improved effect, apply as directed to different areas of the body, such as, inside the elbows, the thighs, abdomen and breasts, apply daily from the 10th to the 21st day of the menstrual cycle. For external use only. If separation of the natural ingredients occurs- stir well with a plastic teaspoon. Always use a plastic teaspoon to measure and apply Femme-Enhance cream.If symptoms persist, consult your healthcare professional.